Diet Coke Gets a Crystal Makeover
Diet Coke Great Britain is joining forces with cult celebrity jewellery designer Johnny Rocket, and the world's best department store Selfridges, to bring the limited edition 'Diet Coke Crystal Collection' made with Swarovski Elements. In a fashion first, Diet Coke fans and fashionistas alike will be able to create their own bespoke crystal bottle in Johnny's pop up workshop—'the Diet Coke Crystal Customisation Boudoir' at Selfridges' London flagship store this October.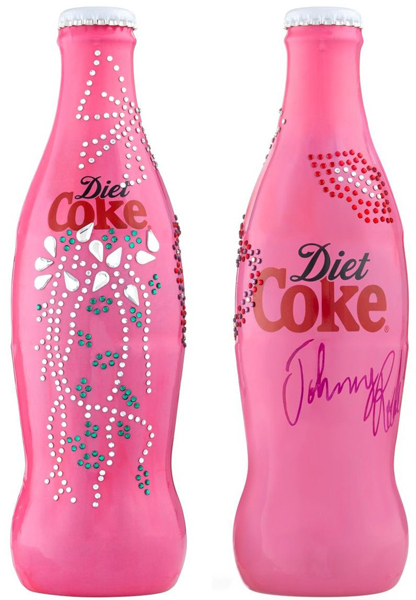 For two exciting weeks from October 14 Diet Coke girls are invited to Johnny's dazzling workshop—'the Diet Coke Crystal Customisation Boudoir'—housed in Selfridges's Ground Floor, to create their very own bottles.  Inside, Johnny and his team will be on hand to help create individual bespoke designs, with shoppers choosing from a selection of striking Swarovski Elements to be embellished onto a limited edition pink Diet Coke glass bottle and topping it off with the name or initials and crowning it with yet more crystals.  All for just £5.
And, for those fashionistas short on time but still desperate to get their hands on this iconic collection, pick up a limited edition pink Diet Coke bottle, lovingly pre-customised by Johnny—a snip at £1.50 each!
"It's great to be working with Diet Coke in a collaboration which combines unique style, and sparkle. What better brand to create sparkling creations with than one of the most iconic soft drink brands in the world! I'm thrilled to be getting a chance to get cool and creative with the famous Diet Coke glass bottle. The fabulous contours are a perfect fit for my sexy and stylish crystal creations," said Johnny Rocket.