Little tetras are for kids and sachets are for samples, right? Wrong. When you are designing for international markets, whatever you think, don't think it, because chances are, you will be wrong.
The first time I came across spirits in the format I am used to sending to school in my girls' lunchboxes, I recoiled slightly. My inner dad had taken precedence over my inner designer. The thing is the 33cl tetrapak is an established whisky format in India and if you are going to design for "foreign" markets you have to stop thinking and acting like a foreigner yourself.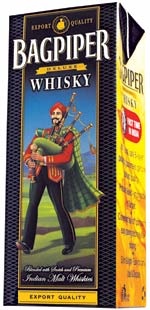 International markets give designers a wonderful workout; getting them to bend and stretch in all sorts of ways that just wouldn't occur on home ground. The first exercise is to get down and dirty to with indigenous consumers, drop one's preconceived notions of what is normal, absorb local customs and tune in to local parlance.
Sachets are cheap and pretty much meaningless here, often found stuck in the pages of women's magazines, but in developing markets, such as India and south east Asia, they are an economical and ergonomic alternative to bottles and other pack formats. While a 40g sachet of moisturiser would be a mere smudge to a wealthy westerner, in India consumers routinely wring 18 applications from a sachet the size of a teaspoon of sugar. The format has none of the downmarket overtones attached to it in the developed world.
Graphics need to be understood through a different mindset. While we might show a drizzle or spoonful of honey to suggest its presence, Indian women are happy to see a honeycomb. We know this because we are working in the market on a variety of brands and categories. We also know that it would be foolish to make any assumptions about how people in other developing markets might react.
There's no substitute for full on immersion. And yes, I did feel a bit tired and emotional after a fact-finding trip to the nightspots of Abu Dhabi because I insisted on really getting under the skin of non-alcoholic fruit beers. Pomegranate flavoured alcohol free beer anyone?
About the Author
Chris Hart is Creative Director at Blue Marlin, Bath. His favourite projects span global spirits brands and small-scale artisan products, from Smirnoff and Johnnie Walker to Hiho and Pukka Pies.