Volvo Launches Shows the True Picture of A Car's Impact on Air Quality and Human Health
Any driver can now find out its true impact on air quality and human health thanks to the launch of a free iPhone App by Volvo, in association with www.cleangreencars.co.uk. The application reveals the toxic emissions of the four pollutants which impact local air quality and human health: carbon monoxide, oxides of nitrogen, hydrocarbons and particulates.
It splits toxic emissions into seven bands—Band A includes cars with toxic emissions of between 0-275mg/km, rising to Band G cars with toxic emissions of over 600mg/km. By using the App, the driver can search for their specific make and model of car and a Best-In-Class button immediately identifies the car with the lowest toxic emissions in that sector.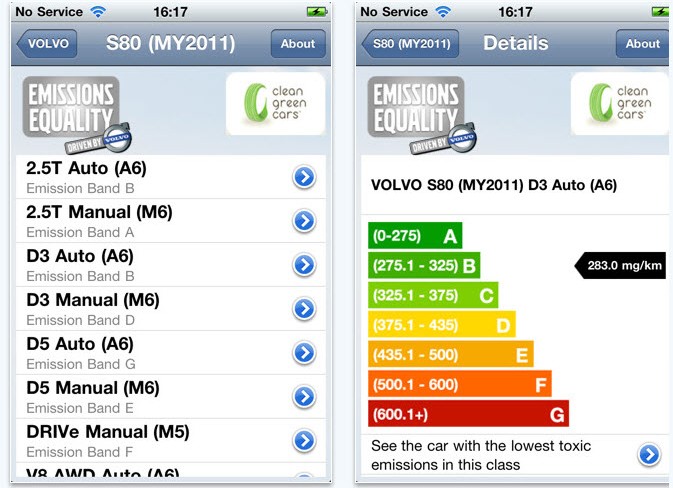 The App is available for the iPhone and has been built by cleangreencars.co.uk using data supplied by the Vehicle Certification Agency, the Government agency which publishes the official environmental details of all new cars sold in the UK.
This data dispels the myth that small is always beautiful from an emissions perspective. For instance a Volvo V70 2.5 petrol manual estate generates 201mg/km of toxic emissions, compared with the 1.2 litre Fiat 500 Start Stop supermini, which at 425mg/km generates more than twice as many toxic emissions as the Volvo.
Volvo's App shows the 'dirtiest' car on sale generates a hefty 2080mg/km of toxic emissions, with a number of others emitting over 1000mg/km. By contrast the cleanest car in the UK is the Skoda Yeti 1.2 105PS which generates 49mg/km of toxic emissions, followed by the Nissan Qashqai+2 2.0 4×2 (71mg/km) and the Honda Insight 1.3 IMA S/SE (73mg/km). Volvo product performs generally quite well with the C70 2.4 170PS generating the lowest emissions (121mg/km—Band A) in the small sports sector, while the S40 D5 Geartronic sits in Band A of the Compact Executive Sector at 271mg/km.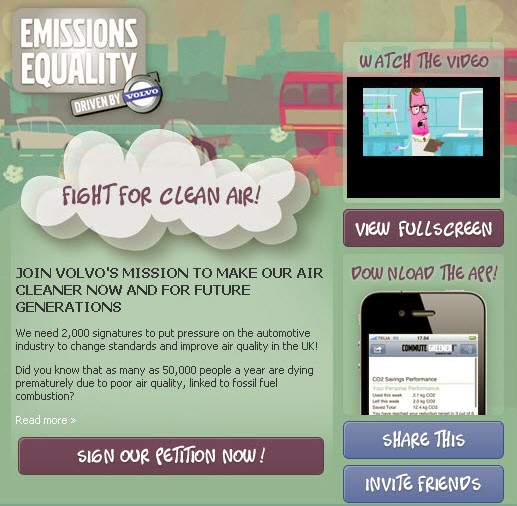 In conjunction with the new App, Volvo Car UK has also launched an online Facebook petition to mobilise the masses to try and influence Government into mandating the information contained in the App to be available in all car dealerships.  Details can be found at www.facebook.com/insidevolvouk.