Bacardi Launches "Mix-Together" Facebook App
Bacardi is launching an innovative, interactive Facebook app that creates, for the first time, one central portal that gives users the ability to organise and share their social life. The Bacardi "Mix-Together" app is a fully functional calendar designed to help organise events and offers the chance to earn "social points" in a variety of ways including through creating events and having invites accepted.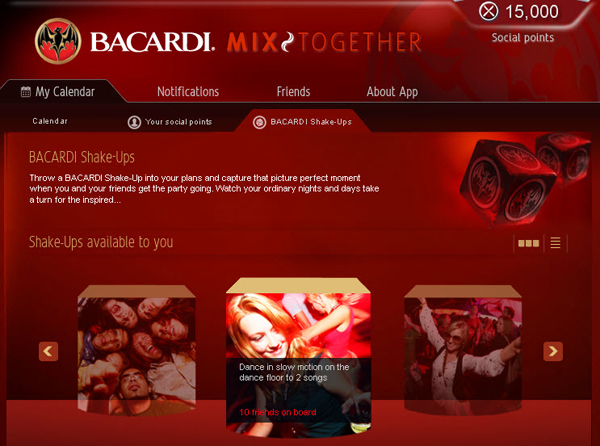 Using a "badge" points based system, users can aim to achieve "Maestro de Ron Bacardi" (rum master) status which gives them the chance to win a trip to Puerto Rico. The calendar app will also feature fun challenges and competitions with the chance to win everything from Bacardi merchandise to music based prizes.
Created by marketing agency RAPP, the calendar app will allow users to upload and share pictures of their events, accessible by simply clicking on the day of the event. Mash up functionality will be added to allow creation of music backed videos of nights out. The app will be promoted through advertising on Galaxy radio and on Facebook and through emails to the 100,000 strong La Gran Familia Bacardi database. The initiative will also evolve to eventually embrace mobile messaging.
Catherine Archer, Director of Marketing, Rum, at Bacardi comments, "Bacardi is all about the Latin spirit and a passion for life and this app is all about helping people organise, enjoy and remember their nights out. It's perfect because it epitomises us as a brand and offers real benefit to users as well as giving them the opportunity to add spice to their nights out and win prizes."