IKEA's Inside Design Competition: the Reality of Living with Style
Since opening its first store in 1958, the global retailer IKEA has been continuously exploring the theme of interior design, both appealing and affordable. It has established itself as a leader in delivering smart solutions for middle class consumers who want their homes to be comfortable and even somewhat glamour, but have to stay within the limits of their salaries. This time, IKEA has teamed up with the Babelgum online television platform to launch the Inside Design: the Reality of Living with Style project, which saw four New York City designers competing to develop a room design on a $5,000 budget.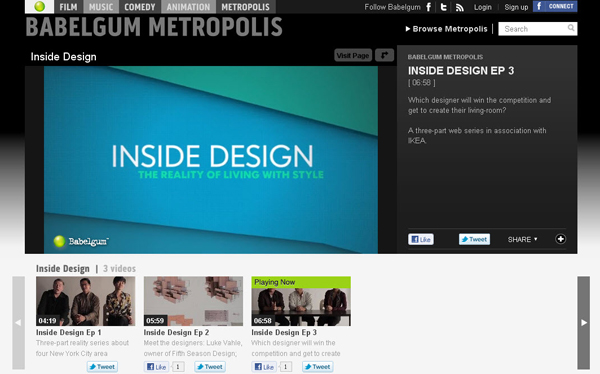 The contestants, Luke Vahle, owner of Fifth Season Design; Lyndsay Caleo of Caleo Jewelry and Brooklyn Home Company; Joshua Heintze, a furniture designer and craftsman based in Williamsburg, Brooklyn;  and Shana Ecker, an independent interior designer from Hoboken, NJ, were commissioned with a task to create a stylish design for a living-room in a Manhattan loft. They were encouraged to select furniture pieces from the BESTA or KIVIK lines of IKEA furniture and add their own creativity and fresh approaches. The action was documented to be later used for making three reality-show web-episodes—Introduction, Developing concepts, and Winner announcement & Implementation of the idea,—which are now featured on the website.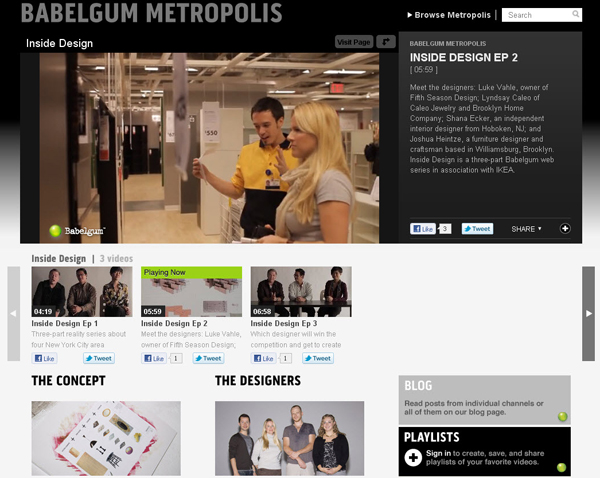 In the third video, the judging panel made up of three industry experts commented on the designs unveiled during the project and named the winner of the contest. Lyndsay Caleo, whose work was considered the best one, was given $5,000 to turn her concept into reality, received a desktop computer, plus was awarded a one-year membership to 3rd Ward, a member-based art and design centre in Brooklyn, NY.
"With Inside Design we have been able to bring together entertainment and brand exposure in a creative way. The series not only showcases the work of some of New York's up-and-coming interior designers but also gives our audience a source of inspiration and some practical clues to re-imagine their own living room," said Laurence Billiet, Babelgum's executive producer.