There's been much talk over the years on globalisation, how through technology we're increasingly connected, how international economies have become increasingly integrated, and how increasingly ideas flow freely throughout our societies. How ironic then that globalisation has help us realize that maybe the grass isn't always greener on the other side of the world. Markets, much like nature, have a way of righting themselves and whilst globalization may have contributed to the financial mess we're in, it's also provided an upside.
The upside is: as the going's got tough we've started to re-value what's closer to home. By 'home' I mean family, friends and a growing sense of community. 'Home' is also that place in our hearts—the thing we go to in times of uncertainty, when we need re-assurance—when we need to feel good. It's not a new idea but it's one we're re-learning as we once again begin to truly value what's closer to home. 'Loving thy neighbour' looks like it's back on the must do list!
And as we tune into 'home' more often, what is happening on our own doorstep begins to take greater priority. It's why we'll tune into truly local radio whenever there's real danger, be that a flooding in Cornwall, snow in Aberdeen or a killer on the loose in the Lake District.
However, it's not only when we feel threatened that we turn to our local neighbourhood. When we seek authenticity we often look round the corner as well. To places like Brixton Cornercopia which is both a purveyor of delicious local food and a hub for sharing recipes and food stories. The corner shop and deli-cum-eatery celebrates the uniqueness of Brixton market and its people—the abundance of raw ingredients, the diversity of homemade food products and the personal stories and recipes of the local community.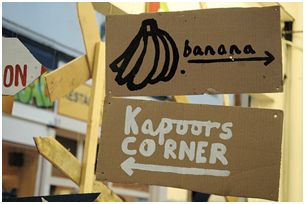 As these new aesthetics take root we are seeing more examples of communities pulling together. A great example is The People's Supermarket. Based in London's Lamb Conduit Street and owned and managed by its members, The People's Supermarket aims to cut retail waste almost completely by using produce, property and people's time in super-efficient ways. Set up by forward-thinking chef, Arthur Potts Dawson, the co-operative helps families and local low-income groups by rewarding members with a discount on their shopping. In return, members pay a £25 annual membership fee and work in the shop for four hours every month.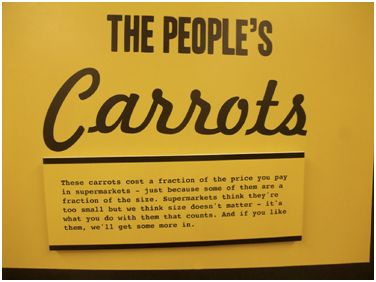 Big business is also getting in on the act.  On the 27th of November American Express are supporting the first-ever Small Business SaturdaySM. They describe it as, "A day for us to come together in support of the small businesses we love. The shops and restaurants that employ our neighbours and reinvest our money close to home. The businesses that are the heartbeat of our communities and local economies."
And a personal favourite of mine that also pays homage to these values is the Incredible Edible Todmorden. Todmorden is an ordinary town in the north of England that aims to increase the amount of local produce grown and eaten there. The town encourages households to grow their own food and to buy locally through a variety of forward-thinking initiatives. Businesses, schools, farmers and the wider community are trying to use the common currency of local food to build a better future for themselves and their town.
What sets Incredible Edible apart is that it's fun, it involves everyone in the town, it gives people ownership and room to be creative, and it's a genuine grass-roots project. Its founders believe it could be a blueprint for every neighborhood, and could easily be rolled out anywhere and everywhere.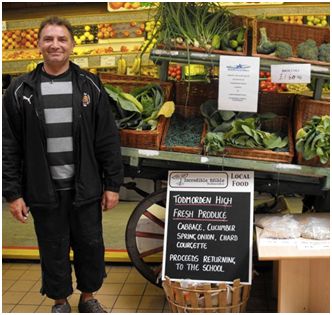 It's not just about being literally around the corner though. There are other ways to create a sense of neighbourhood, home and family.
Nostalgia has its part to play in making us feel good in times of hardship too. Nostalgia can take us back to an often rose-tinted memory of what life was like when it was simpler and everyone knew his or her neighbours by name. In the US, Art in the Age of Mechanical Reproduction has launched a couple of brands that remind us of such halcyon days. Snap is a spirit inspired by a 400-year-old Pennsylvanian-Dutch recipe for 'lebkuchen' a traditional ginger biscuit.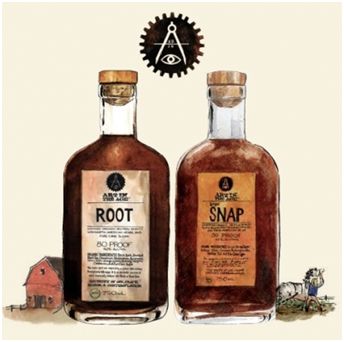 And 'Root' is an alcoholic beverage based on a mixture of wild roots and herbs that Native Americans shared with settlers back in the 1700s. Snap and Root demonstrate how traditional recipes can inspire new product development.
Others tap into nostalgic neighbourly-ness through 'the way things used be done' ethos.  A new brand, Wool and the Gang, describe their offering like this: 'The story of a family, a know-how transmitted to the next generation, re-invented, self taught, a bond between gang members, a gang of knitters, guys and girls from 7 to 77 years old, all tied together by a piece of yarn…'
And its not just bygone activities that help us connect with each other. Packaging can also offer us a similar comfort. Witness the success of General Mills old-school style approach to design with its retro packs for some of its best-selling cereals, Cheerios, Honey Nut Cheerios, Lucky Charms, Cocoa Puffs and Trix.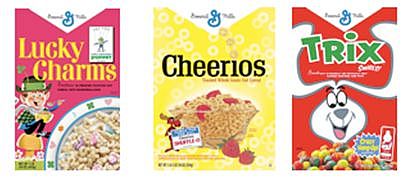 Most interestingly of all is that in our new-found desire, if not to love our neighbours then certainly to embrace them, is the recent phenomena the Japanese call Wabi Sabi. Pared down to its barest essence, wabi-sabi is the Japanese art of finding beauty in imperfection (not to be confused with Japanese horseradish-y stuff!)
Wabi-sabi celebrates the cracks and crevices and all the other marks that time, weather, and loving leave behind. It reminds us that we are all but transient beings on this planet, that our bodies as well as the material world around us are in the process of returning to the dust from which we came. Through wabi-sabi, we learn to embrace liver spots, rust, and frayed edges, and the march of time they represent.
Building on this, imperfections, as constantly proved by television talent competitions, are actually often the key to success. The X Factor serves to demonstrate that the imperfect stand out and therefore become even more memorable. Just think of Susan Boyle, Cher Lloyd, even Wagner! There's also been a rise in the popularity of 'imperfect fashion models' for example, Beth Ditto modelled for Gaultier at Paris fashion week, and David Walliams' supermodel wife, Lara Stone, has a noticeable gap between her two front teeth.
It is our imperfections that make us human, that somehow make things 'real'. Without them things are blank and sterile. Perhaps this is why imperfect is the new perfect in hotel design, at least for Michelberger's new hotel in Berlin. The concept is based on his notion that 'perfection doesn't create memories because memories only result from movement, from a lively experience of interaction—with people, the surroundings and atmosphere.'
The hotel in Berlin is a unique space that reflects the creativity of the city. It's infused with a rough artistic spirit rarely seen in lodging design, with countless vintage books used as wallpaper, decoration and lamps to create a raw but welcoming feel.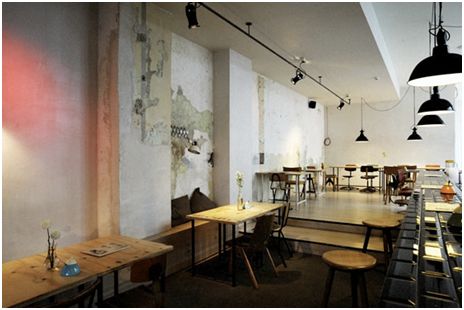 It isn't just another wacky, short-lived hotel project though. Michelberger's goal is a sustainable, passionately run establishment that offers authenticity— a rare commodity in the world of city hotels. With little interest in stereotypical ideas of luxury, Michelberger has created a cosmopolitan yet street-savvy hangout, where he would love to stay. And with rates starting at €59 per night, dreamers, movers and shakers, lovebirds, soul-searchers, artists, craftspeople and globetrotters alike can enjoy the special social dynamic of the 250-bed space, which will soon become a Berlin landmark for young and young-at-heart.
In summary, whilst your neighbour may not be perfect, it may be that those very imperfections that grow on you. Perhaps you'll begin to appreciate, even love them. As the great songwriter Leonard Cohen, once wrote, 'There's a crack in everything, that's how the light gets in.' In these dark times, I like to think that Cohen would be singing hallelujah to 'loving thy neighbour.'
About the Author
Greg Taylor became founding partner in global brand design consultancy Elmwood in 1989. Now Director of Brand Provocation, Greg is the creator and facilitator of Step Change™, Elmwood's strategic tool for moving ideas forward. Clients include ASDA, Wal-Mart, Arla Foods, BBC, COI (Defra and DfT), Cable&Wireless, Comic Relief, Debbie & Andrew's, Durex, Glasgow 2014 Commonwealth Games, McCain, and the Met Office.