(RED) Wants to Eliminate Mother-to-Child Transmission of HIV by 2015. Brands Help.
In honour of the World AIDS Day, December 1, the charitable (RED) project in collaboration with global brands gave boost to its international program focused on providing help to HIV-infected people in Africa. They have introduced a new twist of the campaign, which has been running since 2006: this time, (RED) wants to bring attention to the possibility of the first AIDS Free Generation in 30 years by 2015, and is encouraging people around the globe to promote the idea by customizing their social media profiles with (RED) avatars, badges and backgrounds as well as buying the branded goods from iconic manufacturers.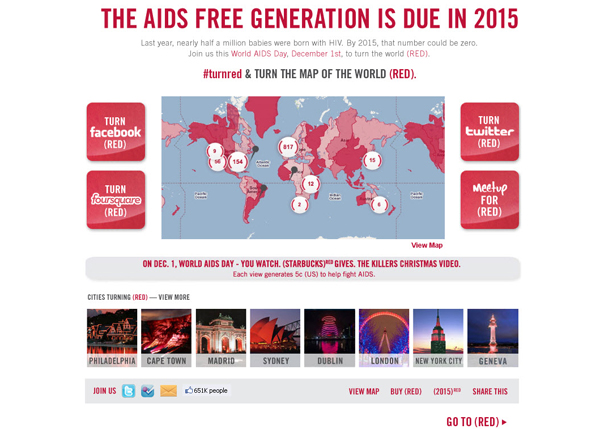 Eliminating mother-to-child transmission of HIV in just five years is real, and to make it happen, we have to contribute. (RED) invited big and small companies to help people give by getting something at the same time.
The names, which are involved into the initiative and release (RED) products, are ranging from technology leaders Dell and Apple to jewellery-maker Solange Azagury, fashion brand Emporio Armani and financial service company American Express. Still, the most active players on this pitch are Starbucks and Nike (Converse).  These brands are releasing products or even campaigns to support the initiative both by raising money and spreading the word. For example, this fall Converse collaborated with Damien Hirst to create a limited-edition RED Chuck Taylor collection, and a year ago Nike launched its massive 'Lace Up Save Lives' campaign, featuring a plethora of sport celebrities.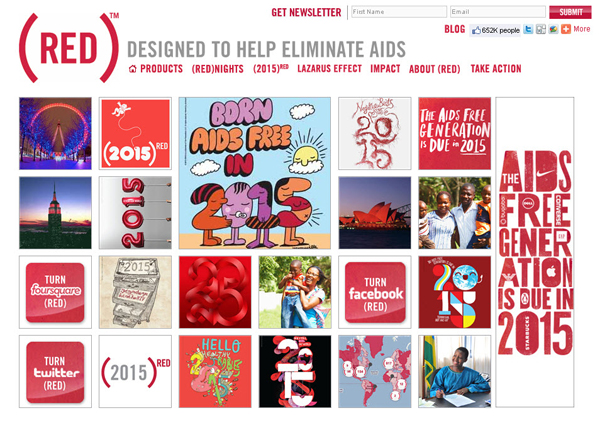 This holiday season, Starbucks, which tapped into the project in 2008, has released a limited-edition collection of Christmas items, featuring the initiative's logo—$1 U.S. goes to the Global Fund (related to the initiative) for each purchase of (STARBUCKS)RED To-Go Cup and—five cents U.S. goes there as well for each swipe of the (STARBUCKS)RED Card. Plus, the coffee chain will be making a five cent contribution to organization for every hand-crafted beverage sold at participating locations in the U.S. and Canada.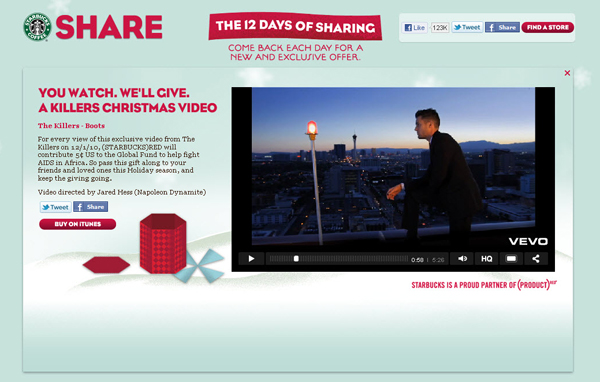 Those, who can't visit the venues, can participate online by visiting www.starbucks.com/share and watch an exclusive video created for (RED) by the Killers. For each view, the company will donate five cents as well. This song is the fifth one the band releases for (RED) ahead of Christmas—every year for the past four years it makes a musical contribution to the initiative. As usual, the nostalgic 'Boots' track is also sold on iTunes here to help collect more money for the initiative. So, visitors to these pages can help raise twice as more by going to both pages.
Some of the participating companies also changed avatars in their social media profiles for the themed profile pictures on December 1, and invited Facebook, Twitter, Foursquare and Meetup users to do the same.