Coca-Cola India and NDTV Launch Movement for Healthy, Active and Happy Schools
Coca-Cola India and NDTV, India's largest news and infotainment network, in association with their NGO partners, UN-HABITAT, Charities Aid Foundation (CAF) and Sulabh International, embarked upon a unique initiative 'Support My School.' The campaign, started January 24, aims to develop healthy, active and happy schools in rural and semi-urban towns of India by improving basic amenities in educational institution of this kind and subsequently generate monetary resources for over 100 schools across the country.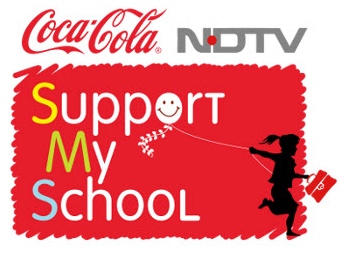 Lack of basic amenities in schools not only results in increased absenteeism but also in high dropout rate, especially among girls. This six month campaign will not only generate awareness about such issues but will also create 100 model schools in villages and towns with the help of all partners associated with this campaign.
Some of the activities undertaken as a part of this campaign will include provision of improved access to water, appropriate sanitation facility for girls and boys, improvement in the overall infrastructure and environment, provision for sports and recreation facilities such as cricket, badminton & basket ball courts, swings etc. and recharging groundwater through rainwater harvesting.
A school in Jhundpur village (Sonepat) in Haryana, was the first school that benefited under the 'Support My School' initiative. The project supported it by aiding infrastructural work such as building hygienic sanitation facilities especially for girls, setting up a rain water harvesting unit, providing improved access to water, renovating the sports grounds to promote healthy and active living and improving the environment.
As a part of the inaugural contribution towards this fund raising initiative, Coca-Cola & UN-HABITAT have pledged Rs. 1 Crore (approx. $218,000 ) to the 'Support My School' campaign. Over the next 6 months, the initiative will raise further monetary resources from public, and the fundraising will peak with a telethon hosted by Indian cricketer Sachin Tendulkar in mid 2011.