'Converse ♥ Marimekko' Collection Celebrates Retro Styles
Converse, the footwear brands which supports aspiring musicians and saves rock-clubs, is also well-known for its successful collaborations with designers and artists. To broaden its portfolio of prints and styles, this time the label teamed up with one of the world's iconic companies in the textile and clothing design business, the Helsinki-based Marimekko Corporation founded back in 1951, to develop a "women's focused" Spring 2011 collection for Converse's fans. The line, which launched in February 2011, features classic vibrant Marimekko's patterns on the iconic shoes of the brand.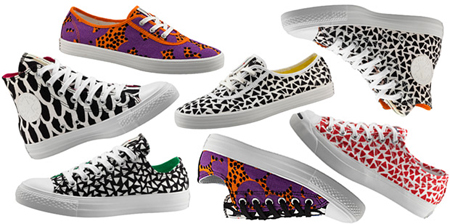 Photo: Cool Hunting
All the patterns are taken from the archives of the cult Finnish textile house to add a retro twist to the shoes in the collection called 'Converse ♥ Marimekko.' These are the vibrant Tarha (1963) and the looping scaly Pikkusuomu (1965) graphics created by Annika Rimala, as well as the Kirppu (1980) tiny triangles pattern designed by Maija and Kristina Isola. To support the launch and tell more about the collaboration, Converse released a short video now hosted on YouTube. The 3-minute documentary showcases Minna Kemell-Kutvonen, Creative Director of Marimekko, who talks about the partnership and discloses some interesting facts regarding the designs.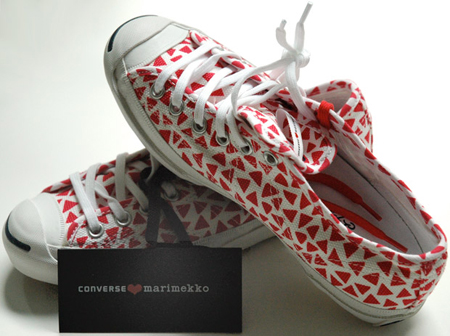 Photo: Cool Hunting
"We are excited about partnering with such an inspiring and iconic company as Converse. This enriching collaboration brings together two brands that both have a distinctive idiom and a unique heritage. The two companies have always walked their own path, and we also share the same unpretentious and joyful approach to life. We hope that this positive attitude will be transmitted to the people who will be sporting the Converses in the vibrant Marimekko designs," commented Kemell-Kutvonen.
The 'Converse ♥ Marimekko' collection includes both classic hi and low Chucks (around $80), plus models called Helen Purcell ($75), named in honor of the wife of Jack Purcell, the man who designed an iconic canvas and rubber badminton sneaker model—in the 70-ies, Converse purchased rights to this model.