You are welcome to share your thoughts on this article written by Jonathan Ford , Creative Partner, Pearlfisher
The news that Tesco is pitting itself against the top brand leaders in the £1.2bn yoghurt sector with the launch of its new own-brand yoghurt offer — Yoo — is, I'm sure, making more than a few brands sit up and take notice. Particularly when Tesco is boldly stating that—the range will undercut "popular brands by 20%" and will reinvigorate the market, which it said has been "static for many years" — and this is reinforced with a further comment by Tesco yoghurt buyer, Matt Ward, who states —"We think the Yoo range of yoghurts will finally breathe much needed new life and fun into a category that shoppers believe currently lacks excitement and innovation."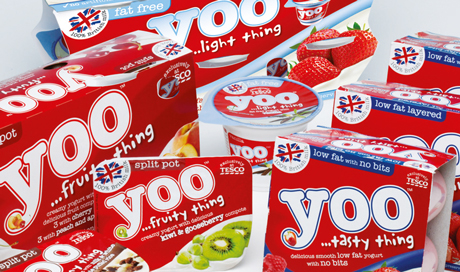 Image source: The Grocer
The 'Yoo' range is made up of 21 products in three formats with three different lines (low-fat, fat free and split) defined by the product names: 'Yoo…Fruity Thing'' 'Yoo…Yummy Thing'; 'Yoo…Tasty Thing' and 'Yoo…Light Thing'. A bold, chatty and fun use of naming, language and tone of voice is nothing new in the food category with many brands having followed Innocent's highly successful lead. But, whereas this device could now be said to be tiring with so many copycats in, most notably, the soft beverage and health food market, this is a brand new direction for the yoghurt sector. And — with the emphasis on health and femininity to attract the core target market— Yoo could be said to be drawing more from contiguous categories such as Beauty and brands such as Benefit and Soap and Glory.
Tesco's challenging approach is two-fold. Tesco has never been afraid to make the first move and did, of course, set the precedent some 13 years or so ago with launch of its Finest range. It is now taking the lead (by example) once again by posing the timely question about why, where, when and how private label should borrow from the branded sector. It is worth just saying at this juncture that whilst, of course, this is the right route for Tesco, other own-label supermarkets would need to assess what route was right for them and their brand offer. Secondly, Tesco is challenging and changing the language of a whole category as it understands the need to open up and create a new space and brand (rather than an own-brand it would seem) for its customers.
We empathise with Tesco and the design challenges faced by the yoghurt sector. We recently completed a redesign for Yeo Valley and wanted to move away from the more traditional and worthy values — as promoted by brands such as Activia — to introduce new richer, more vibrant and tasty cues into this category. Whilst we haven't yet seen the design and impact on shelf, we are fully supportive of the idea behind the new brand. Seemingly, the predominant brand colour will be red and with the use of a strong product colour — and the all-important naming as product descriptor — Tesco is cueing up the richness of flavour and indulgence and dialling into a world outside of product which focuses on the experience for the consumer with moments of pure pleasure and escapism. With the ever-increasing focus on health and well-being, Tesco is shrewdly using a light-hearted approach to encourage indulgence in a tasty but healthy snacking option which is exactly what Innocent did by cleverly getting our five fruit a day into us.
A truly iconic brand never stops challenging. Tesco does deserve a pat on the back for throwing down a challenge to not just the yoghurt sector but to the brand community at large as the boundaries of own-brand and private label are further disrupted.
About the Author
Jonathan Ford is a designer and co-founding partner of Pearlfisher. He oversees a portfolio of award-winning designs, including a high profile list of ethical, entrepreneurial and iconic brands. He is also a frequent speaker at high-profile international industry events and regular contributor and commentator in the design and brand press.
Jonathan can also be followed on Twitter—@Jforddesigns