Deutsche Telekom and Angry Birds Join Forces to Make the Experience of Smartphones Accessible to All
Today hundreds of consumers will have the chance to experience the world's number 1 smartphone game live in the latest installment of Deutsche Telekom's "Life is for sharing" campaign. Its new campaign "Angry Birds live game" is a unique collaboration with Rovio's No. 1 app Angry Birds, the cult game for mobile phones, along with Saatchi & Saatchi cretive team.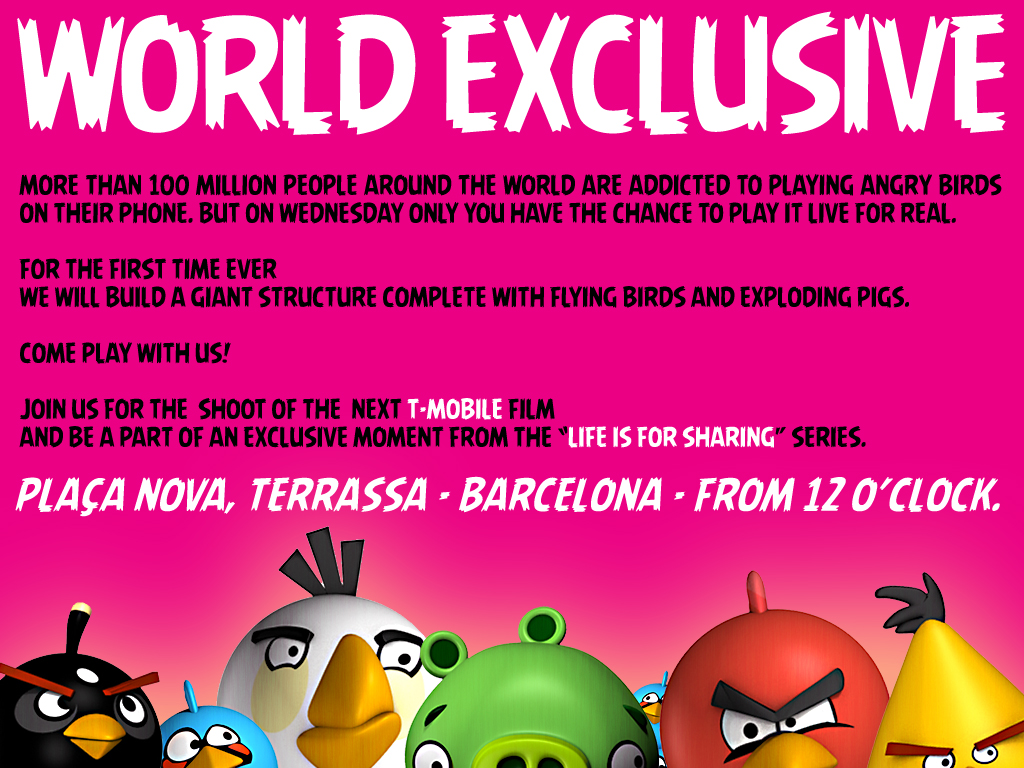 An event flyer
An event teaser video
Blurring the boundaries between the virtual and real world, Deutsche Telekom will once again bring memorable moments to life, this time to promote its new range of sub 100 Euro smartphones. Now thanks to these affordable devices with great tariffs it will be possible for more people than ever before to enjoy exciting games such as Angry Birds and experience the power of smartphones.
At the event shoot in a major European city of Barcelona the astonished audience got to experience the game's well known characters live, from giant pigs, to flying birds, for one day only, everyone was able to experience the infectious experience of Angry Birds, but live.
Passers-by become players, as with just a simple swipe of a finger on a smartphone screen they were able to activate a giant real-life catapult and take part in the game for real.
"Telekom believes that life is worth sharing and so do we. We create a surprising experience that brought a bit of the Angry Birds on-screen excitement and the fun that smartphones offer to the real world. Ultimately we wanted real people to share in the fun as the unsuspecting public watches the world around them transform into a larger than life game of Angry Birds ", explains Hans-Christian Schwingen, Senior Vice President Brand Strategy and Marketing Communications at Deutsche Telekom, the idea of this new campaign. "Ultimately, we want viewers to watch our event unfold on TV or online and think 'Wow, I can't believe they actually pulled that off. I wish I could have been there'".
This campaign aims to engage a broader audience with a natural affinity to smartphones. Aside from the Angry Birds themselves, and their arch-enemies the slickly pigs, star of the spots are the new smartphones available for under 100 Euros. The spot along with a supporting print campaign will be launched across the following countries from beginning of June onwards: Bulgaria, Croatia, Czech Republic, Greece, Hungary and Romania.
The campaign will be supported by a range of additional video content distributed across different channels, allowing interested consumers a glimpse behind the scenes at exactly what went into the latest instalment of the "Life is for sharing" story.
Jason Romeyko, Saatchi & Saatchi's Creative Director for T-Mobile, commented: "We wanted to democratize smartphones, and create a tactile experience that anyone can participate in.  Something that's never been done before".
"With smartphones becoming even more accessible, we're glad to bring Angry Birds to even wider audiences," said Ville Heijari, VP Franchise Development at Rovio. "But Angry Birds is not just about smartphones,it's about entertainment and surprising experiences. We're very excited to partner with Deutsche Telekom to create perhaps the most fantastic and surprising real-world experience with Angry Birds ever."