s.he stylezone, the first decorative cosmetics brand by dm Austria, comes in unique, playful packaging—and is a pioneer in the private cosmetic brand field.
Hamburg-based office of Landor Associates has developed a new brand identity for the cosmetic brand s.he stylezone. The brand s.he stylezone appeals to a young, modern target group with a strong sense of individuality, mobility and fun. A transparent cube is the basic building block of the new modular design and packaging system; the different packaging elements can be inserted into each other and flexibly combined, which inspires individual combinations. The modular system allows every girl to create her own personal s.he stylezone make-up kit.
The packaging of the cosmetic products consists of transparent boxes through which the colourful shades of the different products shine. Therefore the entire cosmetic line has strong impact and communication power at point-of-sale and clearly stands out in the competitive environment. The transparent cubes with their bright fresh colours lend a feeling of lightness to the overall brand. They translate the lifestyle of the young target group directly into a dynamic, modern brand philosophy, which not only includes the product and packaging design, but also all cross-media communication. The relaunch of the s.he stylezone brand will be accompanied by numerous promotional activities both online and offline.
Alexandra Kontetzki, Client Director at Landor Associates: "The innovative packaging design sets new standards: s.he zone herewith positions itself as a confident trendsetter and future style icon in the beauty sector—a completely new approach for a retail beauty brand."
The quality brand s.he stylezone will be sold exclusively at dm drogerie markt in Austria from 26 April, and in nine associated countries from the 6th May 2011.
Landor Associates developed the market strategy, the logo and relaunch and created the product and packaging design for the entire s.he stylezone cosmetics range.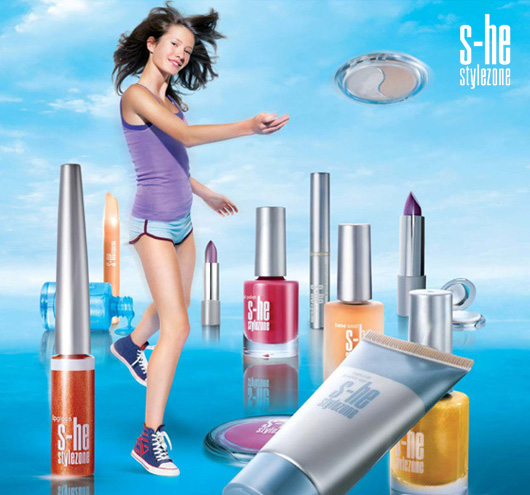 Photo: the old s-he stylezone brand identity

Photo: the newly designed s-he stylezone identity by Landor Hamburg