You are welcome to share your thoughts on this article written by Chris Hart, Creative Director at Blue Marlin, Bath.
I've been interested in Quick Response codes for some time. I thought that was because I was down with the kids, but it turns out that it may be my life stage. Obviously I AM down with the kids, but I am also over 35 and my demographic is the up there with the heaviest QR users.
According to research by Mobio Systems, QR usage has grown by 4549 per cent in the last year. Yes, you read that right. And the biggest user group is not as you might expect. Some 71 per cent of QR code scanners are 25-54 and the largest segment is in the 35-44 year old age group. Research by another digital specialist, Dubit, showed that many teenagers aren't even aware of QR codes and 74 per cent don't think their phones can read them.
QRs may have been more readily adopted by adults, but most commentators seem to agree that usage is reaching critical mass and that gaining mass adoption across the demographic spectrum is a matter of using them in more creative ways in terms of content, but also in terms of appearance. Something that looks good will naturally attract more interest.
I am not mad keen on the recent "creative application" of QR's to gravestones. Japan's departed can now be remembered via photos, videos and other information accessible through an embedded code, which will also log when it is scanned so that it keeps track of mourners. It's like Facebook for the dead. The manufacturer hopes that long term it may create a new way for the time starved younger generation to venerate their ancestors virtually. Nice.
QRs were invented in Japan – where else? – some 17 years ago by a Toyota subsidiary Denso Wave to track vehicle parts and have since become so mainstream in Japan as to be part of the landscape. The rest of the world has been slower to embrace them, but there are some good creative examples coming through.
A personal favourite is the front cover of the New York Times Magazine's tenth annual 'Year in Ideas" special by Karim Charlebois-Zariffa, who created a rather attractive and fully functioning QR made up entirely of balloons. See how he did it here: http://karimzariffa.com/index.php?/projects/the-new-york-times-magazine.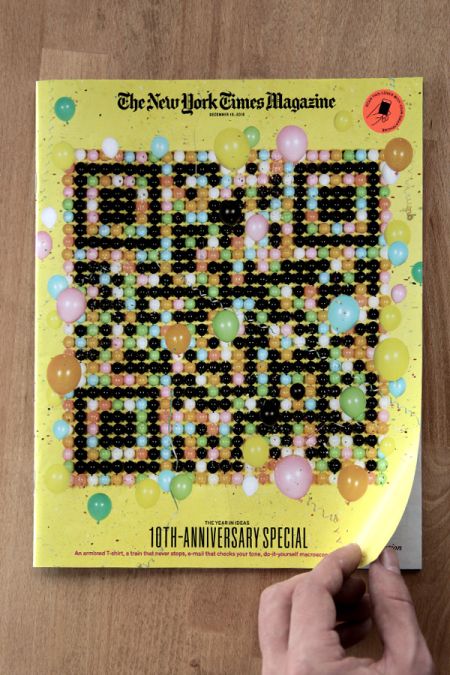 Photo: the cover of the  New York Times Magazine, by Karim Charlebois-Zariffa
I love the edible and scannable code made of a waffle, chewing gum and Hershey's Kisses at NY Resistor, effective and delicious, but I accept not long term.
Both these are examples of things that are beautiful and work and isn't that what all we designers are in the business of creating?
The new generation iQR codes created by Denso enable you to get far more information into a smaller space and, unlike the original format, can be slender rectangles to fit in awkward spaces. That sounds like even more scope to create a Quiet Revolution.
About the Author

Chris Hart is Creative Director at Blue Marlin, Bath. His favourite projects span global spirits brands and small-scale artisan products, from Smirnoff and Johnnie Walker to Hiho and Pukka Pies.