Bombay Sapphire Artisan Series Searching New Talents
Bombay Sapphire, Russell & Danny Simmons' Rush Philanthropic Arts Foundation and Complex Media joined forces to continue the last year initiative called Bombay Sapphire Artisan Series that took place last year as well.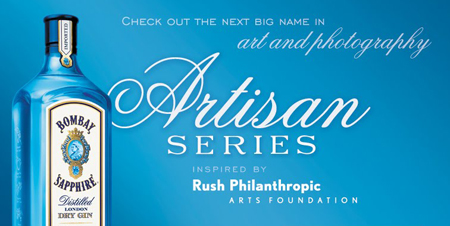 June 7, the 2nd Annual started, which means a nationwide search to identify the finest undiscovered talent in the field of visual arts began. Last year there were nearly 2,000 artist entries and over 175,000 fans from across the country voting to select their favorite works. This year the next wave of artists have all chances to become famous.
Artists who are up to the challenge can enter by creating a piece of inspired, original art and submitting it via www.Complex.com/SapphireArt, www.juxtapoz.com, www.curatedmag.com, www.deviantart.com, www.Facebook.com/BombaySapphire by August 31, 2011. During this time fans can go to the Bombay Sapphire Facebook page and vote for their favorite piece of art.
"The Bombay Sapphire Artisan Series has established itself as a platform for emerging artists who seek to shape our contemporary cultural landscape—artists who look to defy boundaries with the power of their imagination," says Russell Simmons, Chairman of GlobalGrind.com and co-founder of the Rush Philanthropic Arts Foundation. "With the extraordinary success of last year's program, I am excited to see what emerges from this year's roster of talent."
In 2010, Washington, D.C. photographer Stanley Squirewell and Miami artist Jorge Cavelier were announced as the first ever winners of the Bombay Sapphire Artisan Series and could exhibit their works at Art Basel in Miami, recognized as one of the world's premiere art events.
This year select artists to display their work at a sequence of gallery exhibits and events, taking place from September through November in Atlanta, Boston, Chicago, Dallas, Houston, Miami, New York, San Francisco and Washington, D.C. Two artists will be chosen from each local event to compete in the finale during Art Basel Miami. Compiling its own collection of works to display at the Miami finale, will be the next step of the Bombay Sapphire brand.
The submitted works will be reviewed by the program's esteemed panel of judges, including Rush Philanthropic Vice Chairman, Co-Founder and artist Danny Simmons, program curator Andre Guichard and other guest curators and museum heads from around the country, including famed Miami-based artist Miguel Paredes.
After Art Basel two winners will have their work installed at Rush Arts Gallery and Resource Center in New York City's Chelsea arts district for the month of February 2012.
Other activities will include creation of a signature Bombay Sapphire cocktail to be photographed by BevShots and featured with its final images at Art Basel; as well as production of a limited edition gift bags and tins highlighting the works of national Artisan Series winners, Danny Simmons and program curator Andre Guichard. The souvenirs will be available with the purchase of a Bombay Sapphire 750ml bottle.