Dewar's Partnering with TEDGlobal 2011
Dewar's announced its partnership with TED, a non-profit devoted to Ideas Worth Spreading. The blended scotch whisky brand is supporting the TEDGlobal 2011 conference, which is being held in Edinburgh for the first time this year, from July 11 to 15.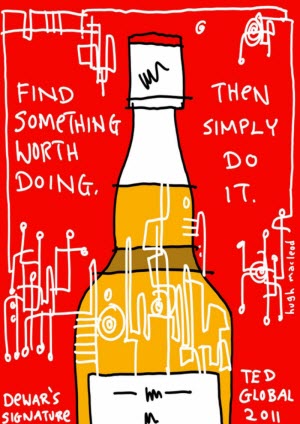 The theme for the conference is 'The Stuff of Life' and the world-class speakers will include: philosopher and writer Alain de Botton, anti-torture activist Karen Tse, pianist and composer Balazs Havasi, brain scientist Allan Jones and actress Thandie Newton. Speakers are challenged to give the talk of their lives in 18 minutes or less to the 850 delegates attending the conference.
But the first stage of the program takes fifty delegates to experience an exclusive private tour of the Dewar's World of Whisky distillery in nearby Aberfeldy, including a bespoke blending and tasting session.
In addition, the Dewar's signature artist Hugh MacLeod will create unique works of art each day reflecting his own thoughts on the conference talks.
The TEDGlobal conference not only a real platform for inspirational talks but it also plays host to many exclusive after hours events throughout the week. Dewar's will be hosting the after-party for all delegates following the Grand Opening Reception and organising several intimate whisky tastings.
Iain Kennedy, Senior Global Category Director, Dewar's whisky said "We are really proud to have formed this association. TED has become a global phenomenon and is committed to the spread of great ideas and their positive outcome. This fits perfectly with Dewar's own view of life that some things are just worth doing. We hope that this will be the beginning of a long and mutually beneficial partnership."
The initiative is to be followed on Facebook.
In March TED announced the winners of the 'Ads Worth Spreading' competition, which celebrated funny TV commercials.