adidas Launched the 'Super Obsessed' Interactive Catalogue
In 2011, adidas presented a full complement of Super Rugby supporters' apparel for the first time. The agency behind the collection's presentation, Whybin\TBWA\Tequila, Auckland, created an original online catalogue using a mix of video and flash animation.  A series of interactive videos, each showcasing one of five apparel ranges—Highlanders, Blues, Chiefs, Crusaders and Hurricanes can be viewed on the adidas 'Super Obsessed' website.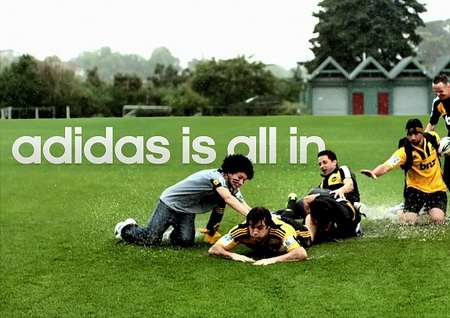 TBWA\Tequila have been creating award-winning ads for adidas since 1999 and knew what kind of advertising would hit the audience this time. It resulted in a fun and functional interactive catalogue with a bit of funk. The agency realized that capturing moments of fans' excitement would be a great attention object and just had to figure out how to implement the task.
The catalogue was created with help of rugby fans. Using social networks, fans from around New Zealand were given the opportunity to spend the day with their Super Rugby heroes while being videoed for the catalogue. They were filmed swarming players, while wearing the new collection clothing, says Campaign Brief.
These videos were shot at 1000 frames per second to allow website users to interact with the slow motion videos exploring each piece of Super Rugby apparel. By clicking on the hotspot, users can find out more information about an apparel piece, including its price. The hotspots also drive them to their local adidas store.
adidas has just announced its first barefoot shoe launch in America.
In March, the three-stripes brand unveiled the 'all adidas' global campaign, the largest one in the brand's history.