Arla Foods has announced the launch of its new Indian dairy range, which will give Indian consumers the chance to buy authentic fresh Indian dairy produce in mainstream supermarkets, and will be available from the end of August.
Savera—meaning 'new dawn' or 'morning' in the Hindi language—was co-created with consumers and Indian chef, Ajoy Sachdev, after three years of research and development. The range has been created to fill the gap in the market for a high quality range of authentic Indian dairy produce, widely available in Britain's main supermarkets, as identified through extensive consumer research.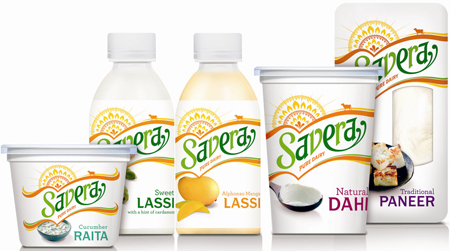 Belinda Parkinson, Future Creations Manager for Arla, said, "Food is integral to the Indian culture and dairy plays quite a large part in this. Quality and authenticity are seen as very important to Indian consumers, but due to modern, hectic lifestyles, they can be difficult to achieve."
Brand agency Dragon Rouge led the creation of the brand positioning, product platforms, name, identity and packaging for the Savera range. The design uses colours that reflect the Indian flag whilst retaining the white and freshness associated with dairy. The name was chosen specifically with the Indian population in mind: although Hindi in origin it is widely understood in all Indian languages and is memorable and pronounceable for ethnic food lovers too.
The Savera range has been designed to provide a convenient shortcut for modern Indian families who use dairy ingredients, providing consumers the chance to buy all their fresh quality products in one place and still enjoy authentic meals.
The new range comprises five different products: Paneer, a soft white Indian vegetarian cheese; Dahi, a product similar to yoghurt and commonly used in Indian curries; the sweet yoghurt-based drink, Lassi, also available in Alphonso Mango; and traditional raita. Paneer has already been added to Tesco's stocklist and will be available from October, while Asda has added both flavours of Lassi to its dairy line, which will also be available from October.
Consumers will be given the chance to sample the products at Mela's in London and Newcastle in the late summer and will also be promoted on specialist radio stations to create awareness.
Deborah Carter, Senior Consultant at Dragon Rouge said, "The launch of the new Savera brand represents the culmination of an exciting study into the culture and needs of the Indian population, supported throughout by Arla's visionary team, and we're delighted to see the brand come to fruition. Our first hand exploration—shopping, cooking and eating with Indian families, testing ideas with them and developing the brand together—have proved a genuinely enlightening and rewarding experience and we wish Arla Foods every success."