Audi Presented a New Urban Concept Car
Audi designed a brand new urban concept car that doesn't fit into any current automobile category. The electric powered show vehicle weighs only 480 kilograms and combines elements of a racecar, a roadster, a fun car and a city car.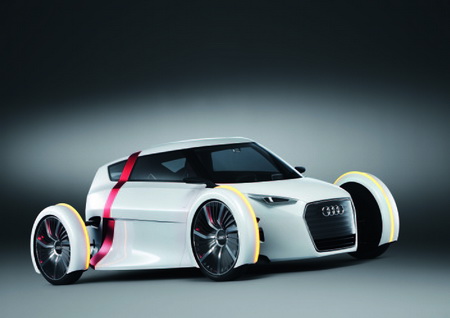 Photo: Audi
The question behind the concept was: 'How much car is necessary to deliver driving pleasure and urban mobility in an entirely new way?' During the process of creation, developers were inspired by a model of a sailplane that was in the studio as an example of lightweight construction, efficiency and reduction.
This resulted in a vehicle with the action radius of 73 km in the European driving cycle . It works on a battery that recharges completely in about 20 minutes with 400 volt three-phase current, and in approximately one hour with 230 volt household current.
The cabin of the Audi urban concept offers seating for two. Traditional doors are replaced by a sliding roof that can also remain open in good weather. The roofline drops down like a wedge while the side window rises upward. The front segment of the greenhouse is movable. Mounted on rails, it can be slid back by hand over the fixed rear segment.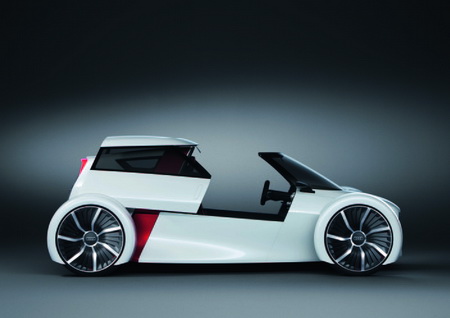 Photo: Audi
Sitting in the car is somewhat like sitting in an airplane cockpit. The seating position is very sporty, explains the official press release. The entire interior of the technology study is strictly dictated by the ultra-lightweight construction.
An innovative mat covers parts of the floor, instead of a carpet. This is made from a technical textile originally developed for athletic shoes that is water repellant and very durable.
The Audi urban concept uses pushrod technology borrowed from motorsports. The turning circle measures less than nine meters, which makes it ideal for a city. An innovative assistance system helps the driver to avoid collisions with pedestrians. It accelerates from 0 to 100 km/h in 16.9 seconds with the top speed governed at 100 km/h.
The new car also has the Audi Wireless Charging (AWC) technology, which refers to contactless induction charging. AWC is not affected by weather conditions and makes charging electric vehicles easy and convenient.
Mercedez-Benz has just introduced its eco-friendly alternative to modern urban cars—the F125! model with the emission-free driving system.