Docker Has Introduced a New Limited-edition Collaborative Khaki Collection
Dockers, the famous khaki brand, has partnered with apparel designer Alexander Wang and a group of five other celebrity designers to unveil a limited-edition menswear collection.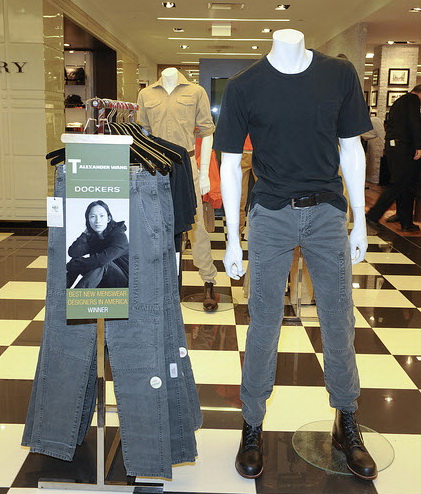 Photo: paulandwilliams photostream on Flickr
Alexander Wang—who was named GQ's Best New Menswear Designer in America—and other participating designer brands such as Riviera Club, Miller's Oath, Warriors of Radness, and CFDA members Patrik Ervell and Michael Bastian put their creative talents into practice and the Dockers khaki heritage.
The collaborative range consisting of 13 menswear tops and bottoms was introduced through an event hosted by actor Donald Glover from NBC's hit comedy 'Community' at the Bloomingdale's store at 59th Street and Lexington Avenue in New York City  coinciding with the Fashion's Night Out on September 8 .
The full collection is now available for purchase at select Bloomingdale's stores nationwide and in Dubai; on www.bloomingdales.com; and on www.dockers.com in the USA, France, and the United Kingdom starting in October.
Last year, Dockers debuted  with its premium collection at American Rag Cie. This year, the Dockers brand has teamed with the nominees of GQ's Best New Menswear Designers in America project to create a collaboratively designed collection for first time.
"The idea was to showcase and celebrate khaki's iconic place in the apparel landscape. As part of that process, we started with the same essential khaki cloth, and through wash, finish, and cut, worked with each of the designers to create six truly unique khaki propositions," offers Doug Conklyn, Dockers senior vice president of global design.  "The end result is a really diverse range that demonstrates the versatility, modernity, and adaptability of the khaki medium while also staying true to the aesthetic of each of our varied design partners."
Within the project, the participating designers were invited to visit and tour the extensive private Levi Strauss & Co. apparel archives, located in the company's global headquarters in San Francisco.  Using this archive depicting history of all garments for Levi Strauss & Co. owned brands—including Dockers khakis—the nominees teamed with Doug Conklyn and the Dockers design team to make a careful study of the brand's khaki heritage.
The collection ranges in price from $75 for cotton T-shirts to $200 for the majority of the khaki pants, including Wang's street-smart offering.