evian Has Teamed up with JCDecaux on an Interactive Out of Home Experience
From July 19 to August 16, Chicago saw evian transform their brilliant 'Baby Inside' TV advert into an interactive outdoor experience with an unexpected twist.
This digital campaign, organised by JCDecaux for the brand, ran for 4 weeks across 5 touch-screens and 38 backlit bus shelter panels.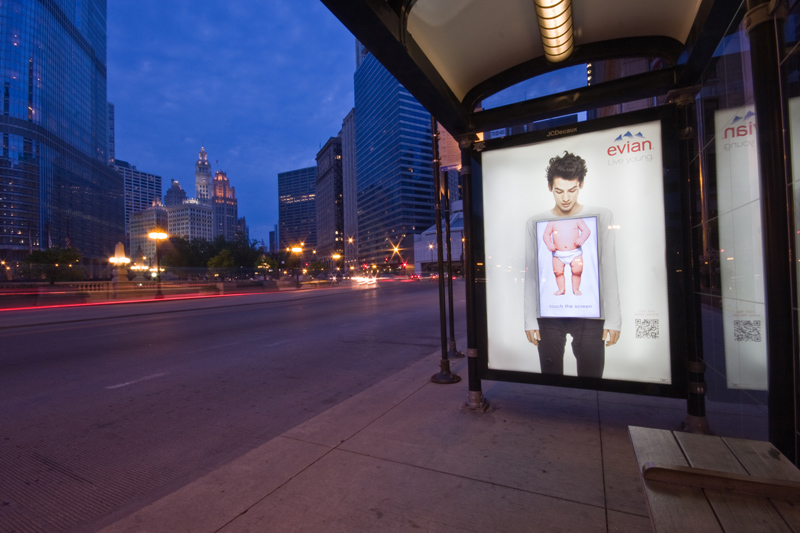 Photo and video: Chicago bus shelter equipped with an interactive evian 'dancing' panel
Instead of a static image, each unit featured a fully integrated screen that, when pressed, allowed the baby body featured in the creative to start dancing, complete with music bringing to life evian's "Live young" concept. A QR code on the shelter gave consumers an opportunity to further engage with the campaign through the evian mobile website, where they could watch the full Baby Inside video and download the "LetsBabyDance" iPhone application. Once downloaded, the application allows consumers to join in and be part of a user-generated version of the video. Strikingly, that throughout the entire campaign, there were nearly 500 hits from QR codes across all locations in Chicago, over 20,000 total screen activations or nearly 5,000 per location with an average 178 daily hits per site.
"evian has always been ahead of trends and unexpected in the way we engage with consumers. Typically, at a bus shelter, you expect to sit and perhaps read the paper or check your cell phone while passing the time," said Jerome Goure, VP Marketing of Danone Waters of America, Inc. "The idea here was to shake it up a bit and bring something new and exciting to people's every day commute. After all, evian wants to help people live in the moment and to 'Live young,' no matter what the setting."