LG 3D Game Festival Is Gaining the World
LG's 3D Game Festival kicked off in Seoul yet in last June with following global expansion. The Festival has so far been held in over 20 countries, including Singapore, Chile, the US, Russia, the United Arab Emirates and Germany among others.

Photo: www.lgblog.co.uk
Global events feature a LG booth, where visitors can play 3D games, on various LG products spanned from Cinema 3D TVs, monitors, and projectors to Optimus 3D smartphones and 3D sound-equipped home theater systems. In particular, with the Optimus 3D, gamers worldwide were able to experience LG's own 2D to 3D game conversion engine.
This year's Festivals range started with the first event in Seoul, Korea in late June, which saw 50,000 visitors eager to experience LG 3D gaming, says LG UK's official blog.
In Colon, Germany, LG opened its booth and provided the full 3D gaming experience with its entire line-up of 3D products on the 'Gamescom' games and entertainment show in the world—the biggest in the world held on August17—21.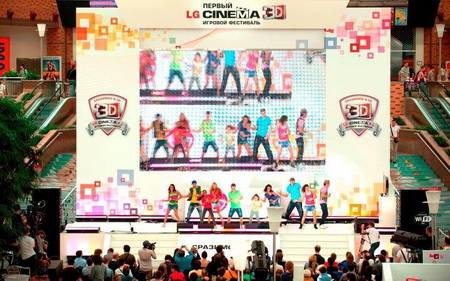 Photo: www.lgblog.co.uk
In Moscow, Russia, LG set up the Festival at Mega Khimki, one of the largest shopping malls in the city. The festival was visited by several celebrity Russian gamers. The national broadcasting companies took part in the Festival which featured a gaming tournament called '1C SoftKlab.' The glasses-free Optimus 3D smartphone, which are  turned out be a big hit among Russian visitors. Another highlight were LG's battery-free and, thus, comfortable to wear 3D glasses, which were given to visitors for free. In 2010, LG promoted a new SL 9000 LED TV range in Moscow 'Boarderless reality' ad campaign.
In Dubai, LG has jointly worked with 'Living Rooms Video Games Cafés' where users experience a true 3D gaming environment as if at home. The Festival in Dubai has been the most pro-longed one. Having begun in late July, the Festival is to culminate in the Mega Championship on 2012 January 6. Featuring daily, weekly and monthly contests in Dubai, the Festival will award winners with prizes, ranging from T-shirts to 42-inch Cinema 3D TVs and other LG 3D products.
The Festivals have proven to be very popular in all countries. According to the organizers, the cities are gaining more interest in home 3D gaming.