Starbucks Released a Card with Braille Lettering
Starbucks wants its coffee to be available in all countries of the world, to all people, but this requires not only opening new chain stores, but also offering equal purchasing opportunities to all customers. For visually impaired consumers, the coffee giant has released its Fall 2011 card featuring the word 'Starbucks' in Braille, which is now available in participating Starbucks stores in the U.S. and Canada for a limited time and can be also purchased online at StarbucksStore.com while supplies last.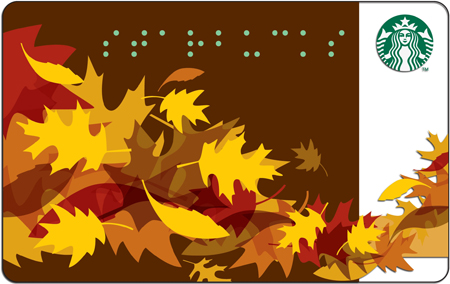 Photo: New Starbucks Card featuring Braille lettering
The new card has been released in nod to National Disability Employment Awareness Month in October. "National disability leaders made this recommendation to us a few years ago at a community symposium. Our Starbucks Access Alliance initiated the idea with our Card team and helped make it happen," writes Marthalee Galeota, Diversity Program Manager at Starbucks. It is another step taken by Starbucks towards its goal of making the world a better place for all (the company is committed to driving positive change around the globe with a range of projects in the environment, community, ethical sourcing and wellness—learn about the initiatives here). 
"Starbucks has taken a number of steps to make stores more accessible and welcoming to customers. From store design to retail training to world-class customer service, Starbucks seek to provide partners (employees), customers and the communities with the best possible Starbucks Experience. In the U.S., large print Braille menus have been available upon request at participating stores since 2008," states the Starbucks press release. So far, the company doesn't say if it's going to take the initiative further and offer its first Starbucks' with Braille lettering in other countries.
Vibrant Starbucks Cards are one of the most popular items in the brand's stores, both offline and online—they were first introduced in 2001, and since then the company has released a variety of cards, including the (RED) and Gift ones as well as cards with holiday and season inspired designs (for instance, the latest one features red, brown and yellow fall leaves). "During fiscal 2010, we loaded more than $1.5 billion on the Starbucks Cards, a 20% increase over 2009 and the Starbucks Card is now used to pay for nearly one in five consumer transactions," commented Howard Schultz, Starbucks CEO.