Intel and Asus have signed Grammy Award-winning artist Jason Mraz for 'In Search Of Incredible,' a global campaign promoting the launch of the Asus new N Series notebook.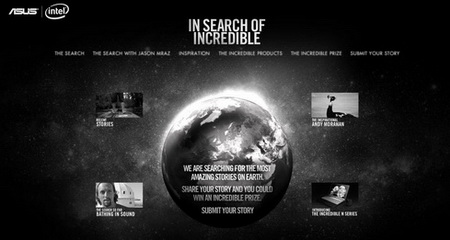 Photo: a snapshot from www.insearchofincredible.com
Recently, Intel and Asus together released new ultrabook models. The N notebook series features high-end audio capabilities to create room-filling sound developed in collaboration with Bang & Olufsen ICEpower, one of the world's leading audio-visual brands. The 2nd generation Intel Core adds power to the new multimedia experience. Users can also create their own images with a built-in HD camera, which features low-level light performance.
Mraz's song 'The World As I See It' will be the theme of the campaign. The track is available for purchase at all DSPs beginning today and on iTunes. But the main highlight of the campaign is a global competition that encourages entrants from 16 countries to submit their ideas of 'The Incredible.'
Users have to upload a description of what they find incredible along with any supporting imagery or multimedia content. The winner will be able to turn their incredible story into a short film with help of a professional film crew. The film will then serve as the final installment in the 'Search for Incredible' online film series and will be screened during the one of the world's leading film festivals in Park City, Utah in January 2012. Mraz will help to select the winner of the series from the 16 market finalists.
Mraz's developed his own quest for incredible that will be captured in a series of webisodes to run on both www.insearchofincredible.com as well the campaign's YouTube channel. Currently, Mraz is traveling the world from Mulholland Drive to Morocco and shares his own vision for the incredible, which is being captured and directed by BAFTA Award-winning filmmaker, Asif Kapadia (The Warrior, Senna).
"Whether your version of incredible music includes thumping bass or a complex concerto, the high-performance spec of the Asus new N Series will allow you to enjoy a media experience that is both sleek and portable," said Silvia Yu, Global Marketing Director at Asus. "Its best-in-class sound and sharp picture quality have never been available before on a notebook and we believe the notebook will take users' audio and video experiences to new heights."