smart Gets 'Unbig. Uncar' in the USA
The bigger, the better? From the very first day it was introduced to the European market a decade ago, smart fortwo proves that this notion is quite arguable. With the new campaign developed by Razorfish and Merkley & Partners, New York, the car is also changing the car attitudes of Americans and tries to beat their 'obsession' with 'big.' The marketing initiative under the 'Unbig. Uncar' tagline, kicked off in the USA in September (it's the first-ever smart's campaign since the official launch of the brand in this country in 2008), revolves around the idea that small and eco vehicles can be much better, more 'unboring, unobey, uncluttered, unblah', than traditional bigger cars.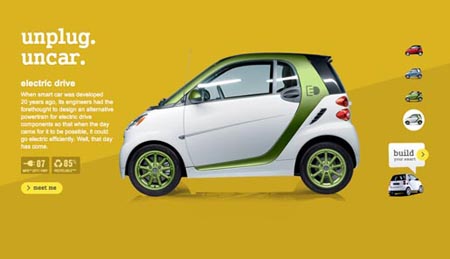 Photo: www.smartusa.com
The campaign which in some way builds on the same platform as the legendary Volkswagen's 'Think Small' initiative of the 1960s (is is the first on the list of 100 top advertising campaigns by AdAge), includes a commercial and a revamped www.smartusa.com website, now vivid and engaging, showcasing the car's models characteristics as well as design and technical highlights about smart. For instance, it informs that 85% of the car is recyclable and helps save fuel and space on the road since it has just two seats—"Over 96 million Americans drive to work alone each day. That means there are about 288,675,000 empty seats commuting to and from work. Astonishing. That's why we got rid of the backseat entirely." The manufacturer also offers smart car owners to customize their vehicles with colourful self-designed patterns—"we'll print it on a 3M vinyl wrap that is as durable as it is amazing."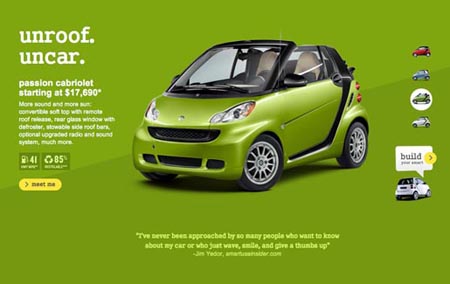 Photo: www.smartusa.com
The 'Unbig. Uncar' commercial is all about demolishing stereotypes: in the spot, people from all walks of life—a singer performing on stage, a little girl painting a picture on her bed, businessmen,  reporters and anchormen to name a few—are saying only one word all the time, Big, in different contexts. In the end of the advert, a young clerk comes up to the window, sees a smart car, driving in the area, and gets amazed buy the tiny vehicle with a bold character. That's how the new trend, loving small, is started. "The space saving, eco-friendly, totally unique smart," says the voice-over.
This campaign is aimed at giving a new birth to smart on the U.S. market. "Marketing and advertising opportunities will be first and foremost in attempting to pull Smart out of its swoon. Currently, the smart brand is moribund. Sales dwindled to fewer than 6,000 last year, and for the first seven months of 2011, ForTwo sales were only 2,883 units," writes www.autoobserver.com. "You very rarely get a second chance to make a first impression, but this is where we have a chance to do that," commented Tracey Matura, the new general manager for Smart USA and a veteran Mercedes-Benz executive. "We can put the full suite of our marketing efforts behind it, and that's the good thing about having an organization like Mercedes-Benz USA behind [smart]. They're known for marketing."