Starbucks Starts the 'Create Jobs for USA' Program
The number of American companies supporting small businesses in their country is growing—Facebook, American Express, Google and Dell to name but a few are now joined by Starbucks, which has teamed up with Opportunity Finance Network (OFN) to launch Create Jobs for USA, an initiative that encourages consumers to donate money, which will be used to strengthen community business nationwide.
"Small businesses are the backbone of America, employing more than half of all private sector workers—but this critical jobs engine has stalled. We've got to thaw the channels of credit so that community businesses can start hiring again. Create Jobs for USA empowers Americans to help other Americans create and sustain jobs, with Starbucks and OFN as a catalyst and the Indivisible wristband as a symbol of our country's unity," said Starbucks chairman and CEO Howard Schultz.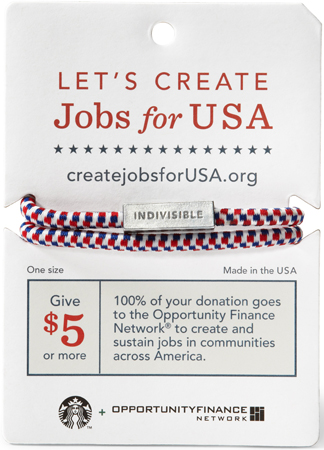 Photo: The Starbucks Indivisible wristband

Starbucks has created a bunch of projects aimed at bringing positive change in a range of fields, including ecology, health and community improvement, and this move is expected to help stimulate U.S. job creation in tough economic times. Starting November 1, through its new Create Jobs for USA program the company will be encouraging its consumers of its nearly 6,800 company-operated venues across the country, employees (partners) and citizens to contribute to the effort by making a little donation—those, who will donate $5 minimum, will get a red, white, and blue wristband with the inscription saying 'Indivisible.' According to Reuters, "Schultz, who recently completed a painful but successful company turnaround that involved the closure of some 600 U.S. cafes as well as significant layoffs, also has asked fellow business leaders to pledge to step up hiring."
All of the proceeds received by Starbucks will be donated to OFN, which represents a nationwide network of 180 Community Development Financial Institutions (CDFIs), where the money will be distributed in loans to U.S. community businesses—including small businesses, microenterprises, nonprofit organizations, commercial real estate, and affordable housing—to support creation of and sustaining jobs primarily in the areas where receiving a credit though traditional channels is far too challenging. Every $5 donation will 'grow into' $35 in financing combined with another $30 on average from the CDFI community lenders. The initial contribution will be made by the company itself—according to the press release, "the Create Jobs for USA Fund at OFN will be seeded with a $5 million contribution from the Starbucks Foundation." The company doesn't say how much it's going to generate through this initiative, but it states that every $3,000 donated through the initiative (or approx. every $21,000 in loans) will help one job to be is either created or maintained. On average, $1 donated through the program will be re-loaned indefinitely since the OFN network has 98% loan repayment rate, and that means that the contributions will create a virtually a ceaseless impact.
"We are thrilled to partner with Starbucks on this innovative and high impact solution to help put America back to work. For more than two decades, OFN's network of premier CDFIs has financed community businesses, delivering both sound financial returns and real changes for people and communities. Create Jobs for USA will unlock the power of CDFIs to finance community businesses and create new jobs and help grow our economy," commented OFN president and CEO Mark Pinsky.