Heineken Has Introduced New Limited-edition Cans onboard KLM
Following its 'Legendary Football' ad campaign, Heineken has launched a limited-edition version dedicated to the 1873 label and in collaboration with KLM Royal Dutch Airlines.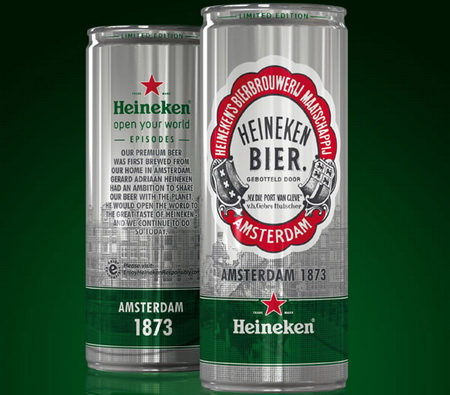 Photo: new limited-edition Heineken can design, by Heineken
The limited-edition can version recollects and celebrates Heineken's earliest label featured on the first bottles as part of the From Holland Festival. The cans will be served on board all KLM flights throughout the From Holland Festival, which will run until the end of November.
According to Heineken, the company has seen a few design changes over time, but one thing has always remained unchanged and this is beer's original taste. Since its launch, the Amsterdam brewery founded by Gerard Adriaan Heineken has been producing beer on its original recipe.
Previous design changes included draft beer Tapje kegs earlier this year and a completely redesigned iconic bottle last year.
"We have received a lot of positive feedback and enthusiastic reviews from passengers, who are taking it home as a souvenir, requesting where they can buy it, etc," Region Western Europe Export & Global Duty Free Natascha Waterbeek told The Moodie Report.