Smirnoff Teamed up with Amber Rose to Launch Two New Flavours
This fall, Smirnoff is treating its fans with a bunch of treats, both entertainment and drinkable. The iconic vodka brand, which has launched spinoffs of its two successful projects, The Smirnoff Nightlife Exchange and Master of the Mix, is now introducing two new flavored vodkas, Whipped Cream and Fluffed Marshmallow—to toast the highly anticipated second installments of the initiatives. According to the brand, the new additions to its portfolio are "to offer adult consumers a line of premium spirits that, similar to that memorable bachelorette party or a classic guys' night out, are fun, sophisticated, and cleverly wicked." These new products are all about sweetness and female nature, which can be both sassy and gentle.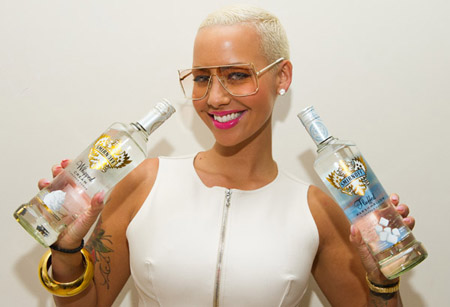 Photo: Amber Rose with Smirnoff Whipped Cream and Smirnoff Fluffed Marshmallow bottles, www.mediajuicejoint.com
The brand notes that the new vodkas represent different 'sweet tones'—Smirnoff Whipped Cream Flavored Vodka has a "seductive aroma that compliments its smooth whipped cream taste," and Smirnoff Fluffed Marshmallow Flavored Vodka got "a refreshing and airy scent that is met with the subtle sweetness of confection." Each of the flavours will be sold at the price of $12.99 per 750mL bottle (this price is suggested and can be different depending on the market).
To launch the new product based on Smirnoff No. 21, the company teamed up with American model, socialite and DJ Amber Rose, who is fronting the new 'bold and audacious' campaign, which includes television, radio, print and online advertising as well as PR, to support the release. The celebrity is also engaged in one of the two spin-off projects by the brand—the nightlife diva is one of the judges on Season 2 of Master of the Mix.
"Flavored vodkas continue to be widely enjoyed by our consumers, which is why we're consistently adding innovative, high quality flavors to the Smirnoff portfolio. We're confident that the new Smirnoff Whipped Cream and Smirnoff Fluffed Marshmallow Flavored Vodkas will be broadly embraced, much like their namesake dessert counterparts," noted David Tapscott, Brand Director, Smirnoff.