Coca-Cola Unveils The Vault of the Secret Formula
The Coca-Cola Company has transferred the 125-year-old secret formula for the iconic drink to a new home at the World of Coca-Cola in Atlanta. As part of the 125th anniversary year of Coca-Cola, the company is sharing the rich history and different artifacts concerning its secret formula in a new exhibit titled The Vault of the Secret Formula.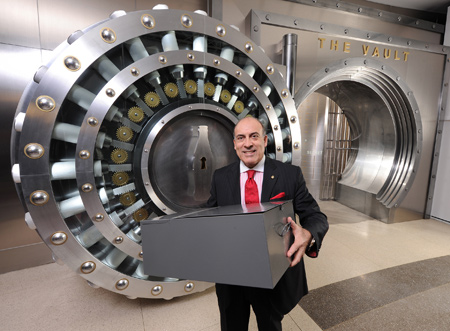 Photo: Muhtar Kent holds the safety deposit box containing the 125-year-old
secret formula for Coca-Cola in front of the entrance to a new permanent exhibit, by Coca-Cola
Visitors can experience the Coca-Cola history and get closer to the vault containing the secret formula. The company moved the secret formula to the World of Coca-Cola from a vault at SunTrust Bank in downtown Atlanta where it had been kept since 1925.
Dr. John S. Pemberton invented Coca-Cola in 1886, and since then the formula was kept in a secret and not written down. In 1891, Asa Candler purchased all rights to Coca-Cola business and in 1919, Ernest Woodruff and a group of investors purchased the company from Candler and his family. The formula was committed to the paper by Candler's son placed in a vault in the Guaranty Bank in New York until Woodruff paid the loan he took to purchase Coca-Cola. In 1925 Woodruff reclaimed the secret formula and placed it in the Trust Company Bank, now SunTrust, where it remained until its recent move to the World of Coca-Cola.
At The Vault of the Secret Formula exhibit, visitors will learn about the trade secret through an immersive multimedia experience. With this exhibit, Coca-Cola also emphasizes the fact that While The Coca-Cola its success has grown far beyond the formula today.
"Any stakeholder who is part of our global system, from a local community partner in countries around the world to someone who simply loves our brands, is part of our secret to success," said Muhtar Kent, Coca-Cola Chairman and Chief Executive Officer. "It is this recipe for success that gives us the confidence to fulfill our 2020 Vision: to sustainably grow our business and continue to help build a better world and future for everyone, everywhere."
The company plans to double its system revenue from 2010 to 2020. The Company also has as part of its commitment to serve the environment and communities, has set sustainability goals that include a solid investment into China's sustainability growth.