Diesel's DC Comics Underwear Collection: Unleash Your Inner Superhero
Diesel, which revealed a line of Fresh and Bright superheroes underwear earlier this year, introducing completely new names such as Supperman, Miss Dismiss, the Iron Boy and more to the comics world, now is delving into the basics of graphic story universe and presents the Super Heroes underwear collection that takes us "to the world beneath." This range is inspired by four iconic DC Comics characters, Batman, The Flash, Green Lantern plus The Joker, and each of the boxers' design features some elements from the hero's image, as well as groundbreaking fabric technology, which makes these trunks be the male wardrobe essentials.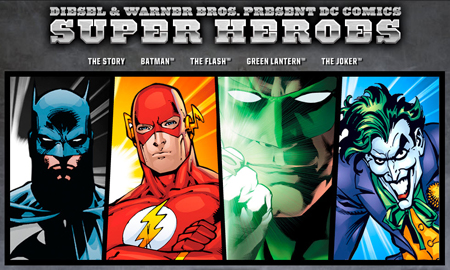 Photo: Diesel Super Heroes underwear collection, www.diesel.com/superheroes/
"Never before have superpowers been so close to your skin. Four heroes. Four models. Four hidden secrets. The fifth element? Diesel itself. Each model bears a uniquely adapted logo. Power through innovation," states Diesel on the new collection's page. Each of the boxers has its unique element, which helps your true superhero identity emerge—thanks to the latest fabric technology, the more you wear this underwear, the more 'power' it gives to you.
For instance, the Batman boxer features a special print, which mimics the contours of Batman's signature costume and over some time (as it's used, washed, scratched and worn), will reveal a distinct black armour. The Green Lantern trunk got a fluorescent element, so when darkness falls, your underwear starts to shine and the print on it becomes visible,—with the Flash boxer one doesn't have to wait till the lights go out, since the term sensitive fabrics reacts with your skin, and the hotter you get, the more your underwear glows. As to the last model, The Joker boxer, it also has something that might surprise: "Not all jokes are funny. Not all white is pure. Weird colours invade. Get ready for the acid reign. The Joker boxer contains a photo print acid effect, inspired by the world famous acid-spewing flower, which the superhero wears on his lapel," says the brand.
The trunks are sold in special CD cases, which feature the image of one of four superheroes. The new innovative items, which can uncover the core and utmost strength in any man, are already available from here at EUR 35.00, as part of SS12 collection.