Heineken Uses Facebook to Connect Design Talent to Create the Bottle of the Future
To mark its forthcoming 140th anniversary, Heineken® has launched a global design challenge inviting creative talent across the world to connect through Facebook to form design teams for a bottle of the future.
The 'Heineken® Limited Edition Design Challenge' is open for entries until 31st January 2012 and offers anyone the chance to form a creative collaboration with a stranger, by choosing to pair design concepts for Heineken's next Limited Edition bottle. The winning duo will see their design launched in an exclusive Limited Edition pack sold around the world from December 2012 to celebrate the anniversary.  Their names will also appear on the bottle.
First, an entrant should download a design brief and toolkit, including the bottle template and Heineken assets from the Heineken Facebook tab (yourfuturebottle.com).  The brief asks people to create a bottle design that symbolises how people around the world will connect in the next 140 years. Once completed, designs can be uploaded to the online gallery and to finalise entry the designer must select someone else's concept to pair with. The virtual duo then forms a creative partnership and the two are submitted as a contender together.
An international judging panel from the world of design and culture will explore the gallery looking for a future design classic. Evan Orensten, Co-founder and Executive Editor of Cool Hunting, Mark Dytham, Co-founder of global creative network, PechaKucha, and Mark van Iterson, Global Head of Design at Heineken, will shortlist three bottle designs before choosing the overall winning concept for the next Limited Edition bottle.
Mark van Iterson, Global Head of Design at Heineken, said:  "Since we first launched in 1873, Heineken has continued to bring people together over social occasions so what better way to inspire the design for our future bottle than to tap into the exciting world of social connectivity.  Design is the premiumness of this era. Through our Limited Edition challenge, make your bottle a showcase of this statement!"
For more information and full details on how to enter visit www.yourfuturebottle.com.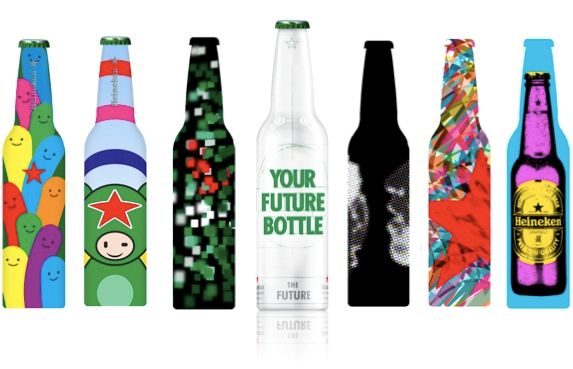 Pic. "Your Future" featured bottlesx
Here is the video: