Jack Daniel's Starts a New Christmas Tradition with a 'Barrel Tree'
Jack Daniel's is aiming to outperform Coca-Cola in delivering festive spirit with X-mas commercials or at least introduce a new element to the celebration with the release of a new campaign, developed by Arnold Worldwide in Boston, with the "It's not what's under the tree that matters, it's who's around it" tagline. The Brown-Forman Corporation's brand believes that the new 'barrel tree' approach will touch people's hearts for years, and will become as iconic as Coca-Cola's Christmas elements. "We hope it will be the start of a new tradition," tells Carmen D'Ascendis, director of global marketing for Jack Daniel's at Brown-Forman in Louisville, Ky, to The New York Times.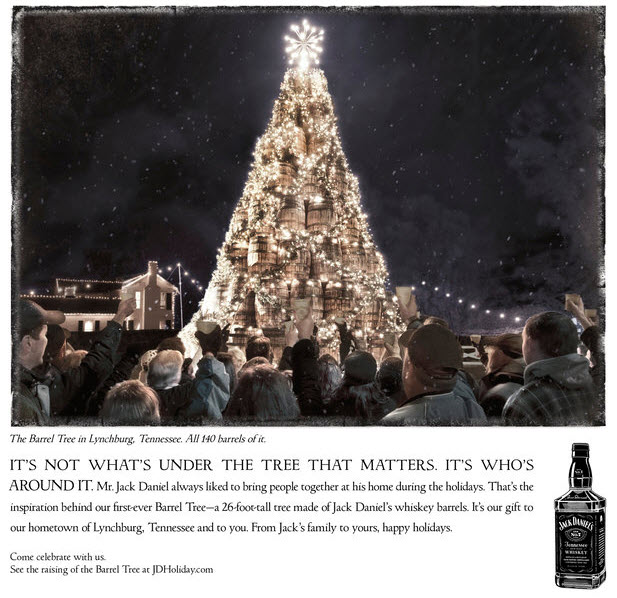 Photo: Jack Daniel's 2011 Christmas campaign, www.nytimes.com
The international campaign, which is rolling out on several markets such as the U.S., UK, Ireland and South Africa today, December 1, includes a TV advert, online, outdoor and print elements to deliver more happiness to people this season. A 26-ft tall Christmas tree, made by stacking whiskey barrels on top of each other and decorated with lights, has become the centerpiece of the campaign, which budget estimated at $10 million, according to New York Times."There are a lot of commercials that become part of the celebration," comments Wade Devers, global creative director on the Jack Daniel's brand at Arnold. "They all add to the feeling of the season."
The advert, directed by Carmen D'Ascendis, features a group of 70 people, the community in Lynchburg, the brand's home (both residents of the town and the distillery employees), who are rolling and transporting their barrels to one dedicated spot to create the stunning Christmas tree. The campaign also includes promotion on the brand's Facebook fan page, where users are invited to play a game, in which they have to protect the whiskey in the barrel tree from "barrel bandits" (to fight the rascals, one should fire snowballs at them). So far, the game application hasn't appeared on the page, but it certainly will.
As to Christmas trees, its unconventional versions were recently unveiled by LEGO and Claridge (the hotel collaborated with Lanvin's Alber Elbaz to decorate the tree).