Microsoft and Novotel Have Launched a Kinect Hotel Room
The Accor hotel chain and Microsoft have designed a special Room 3120 at the Hotel Novotel Vaugirard Montparnasse in Paris to reveal an interactive gaming place that uses an upgraded Xbox 360 console and Kinect technology.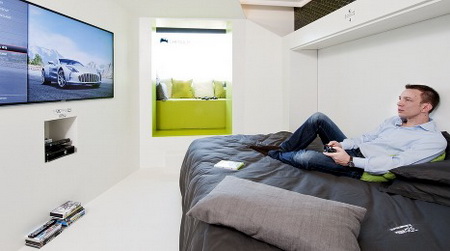 Photo: the Room 3120, from www.ausbt.com.au
The room for adult gaming fans is equipped with a foldout bed to make more space for interactive gaming and other screens for accessing news and information. There is also a separate children's zone with games console and roll-up beds.
The white and brown colors of the room are diluted with vibrant 'Microsoft's colors'—green gaming nook and blue beanbags and plays up the high-tech theme. The room boasts of a large flatscreen TV, an Xbox 360 gaming console and cushions that look like the Shift and Escape keys on a keyboard.
The regular hotel room desk is replaced with a 30 inch 'multimedia table' that is built around Microsoft's touchscreen Surface technology and responds to users' hand gestures, says Australian Business Traveller. The table features different apps ranging from web browsing to interactive city guides.
Another high-tech highlight of the room is the Sensorit interactive mirror, which incorporates gesture recognition technology from Xbox Kinect. With the wave of a hand it turns into a high-def video screen capable of showing the latest news, weather or multimedia content.
The room that costs about $272 a night is temporary and available until February 14, 2012.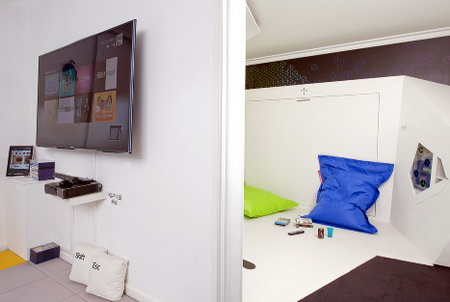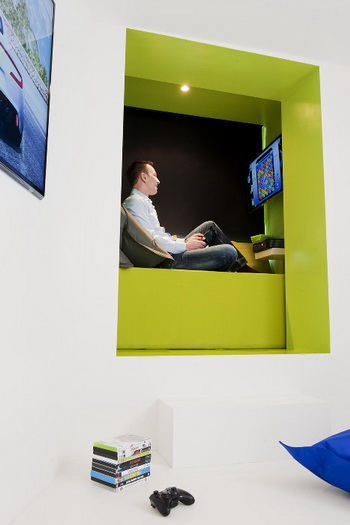 Photos: the Room 3120, from www.ausbt.com.au
.