Arla Cultura® is a leading Scandinavian brand offering a range of probiotic yoghurts, drinks and shots targeted at improving stomach health. Whilst the marketplace is very competitive, it was felt that Arla Cultura® had great potential for growth.
Historically, the brand had been slightly medically perceived in Sweden and a well loved premium positioned brand in Denmark. The opportunity identified was to grow the brand via a more lifestyle based proposition that Arla Cultura® could own within the stomach health segment. pi's task was to evolve and strengthen the design to support this new lifestyle proposition and the claim of 'Arla Cultura® balances your stomach'.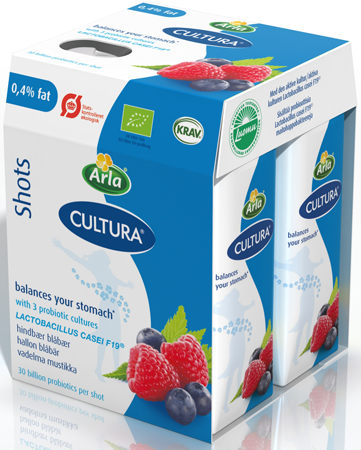 Photo: Arla Cultura's new package design
Building on the existing equities that were already strongly established—the vertical distinctive S shape curve and the large fruit images—pi developed a woman lifestyle icon that was taken across to the entire range of products to signal lifestyle. A swirl of Arla buttercups flows around her stomach area to signify stomach health. The fruits reinforce the brand's natural and appetising taste profile and the simplified information hierarchy heroes the Arla Cultura® main USP and further clarifies its product benefits.
Overall, the new design has created a visual language and tone of voice that both appeals and resonates with its consumers. The launch has taken place and is rolling out in Sweden and Denmark.
Kirsten Jensen, Strategic Director, pi, 'Arla Cultura® needed to re-affirm itself in the growing dairy stomach health segment due to increasing competition from both local and global players such as Verum in Sweden and Danone's Activia and Actimel. The new design strongly supports the lifestyle dimension of the brand, further differentiates it from the competition and clearly signals its key USP and benefits to the consumer.

Photo: Arla Cultura's new package design

Photo: Arla Cultura's new package design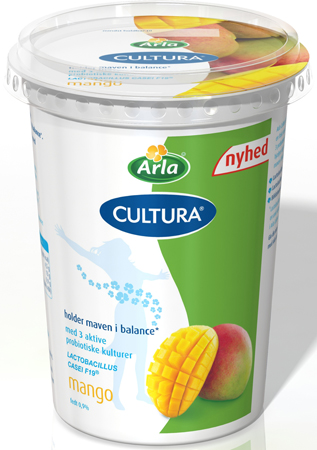 Photo: Arla Cultura's new package design
Photo: Arla Cultura's new package design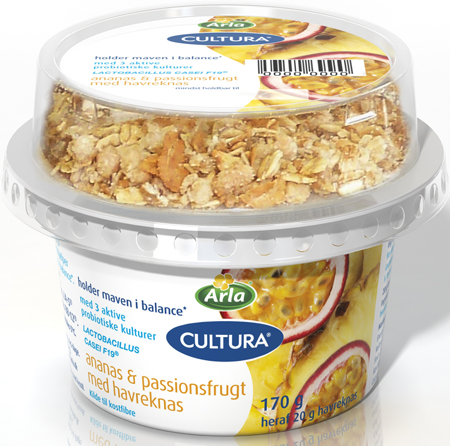 Photo: Arla Cultura's new package design