Have your say, share your thoughts on this article written by Nir Wegrzyn, Managing Partner of BrandOpus, London
On a supermarket trip in Germany recently, I became very aware of the difference between private label structuring at home and abroad. Offering a supermarket brand as an alternative choice to branded products across the majority of categories in store, the German shelves were filled vertically with a myriad of private label copycat packaging sat directly next to their branded twin.
Walking along the aisles, it was fascinating to study the gap between brand and its replica private label twin across nearly all categories, as they sat alongside each other on shelf. I had one of those eureka moments, when I realized that private label was consistently feeding off the weaknesses of the branded market leader, and that brands which possessed distinctive, ownable traits were protected from the possibility of easy duplication, and were effectively safe on shelf.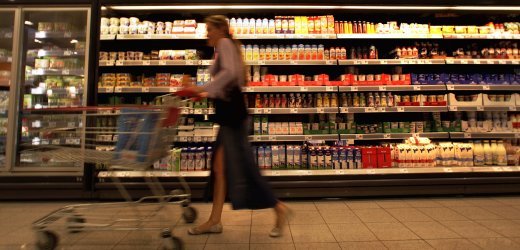 Photo: German supermarket, www.spiegel.de
Although on the surface the German approach sounds like a big threat to big name brands, the reality is riddled with problems. Private label has the lack of ability to create a proper value-based proposition, and the retailer's design team will be constantly playing catch up with the bigger design budgets that leading brand owners can afford. Equally challenging are the legal and financial implications of a 'passing off' trial should private label take a step too close to the fire, and two designs are deemed too similar.
All things considered, it's not surprising that UK retailers have historically always offered private label ranges on what our agency would call a 'horizontal' positioning structure, meaning a range of tiers across difference price and quality points from basic through better to best. Every retailer in the UK follows the same concept, Sainsbury's own range stands shoulder to shoulder with lower cost offering 'basics' range while premium products are labeled 'Taste the Difference', just as Tesco's standard offering is sandwiched between the 'Value' and 'Finest' ranges.
The irony of such a range of choices is that consumers always say they want value, but what they really act upon is perceived value. Value is a synonym for cheap but in the real world it's not the product with the lowest price that most often attracts the consumer's eye, but the product that manages to find that point on the parabola, where price and perceived quality intercept. The one, who achieves value equation, wins the customer.
While brands have long sought to entice customers in through repositioning and rebranding to maintain a higher perception, they are becoming increasingly wiser at achieving this through new savvy techniques. With a much wider spectrum of brand awareness tools at their disposal, brands that are far more integrated into consumers lives, and are achieving a much deeper level of brand resonance, the holy grail of any brand in a competitive market.
Private label may have enjoyed a temporary hiatus in the race to compete with brands during the last troubled economic climate, when some consumers sacrificed quality in favour of cheaper products. But the smarter brands used this time to take stock, and plough their energies into design and other marketing strategies. With packaging design that shines on shelf and draws in the consumer, brands are enjoying the fruits of their labours, while private label has found itself lagging. This is dangerous news indeed for brands: with their main point of difference from own brand being design and communications rather than product, the threat of 'branded' competition from supermarkets, who have the ability to offer a similar product at a more competitive price, is a major concern.
Traditionally we think that consumers choose based on the quality of the product, while really the driver of all choice is the non-cognitive relationship that the consumer has with the brand, which is entirely channeled through the brand identity.
Once the brand identity has accurately addressed how the brand wants to be perceived, it's a matter of finding a role of this brand within the consumer's life.
Retailers have dabbled with creating brands in past, but it needed to generate its own perceived value more effectively in order to compete. Where retailers have failed in the past is by driving interest in the brand by emphasising the cheapness element of the value equation. All this leads to a decline in overall perceived value and increased pressure for pricing to be increasingly competitive, highlighting the need for own brand to generate its own perceived values in order to be sustainable.
Earlier this year Tesco took a bolder step in this direction with the launch of Yoo, the move to take a brand of their creation into the £1.2bn yoghurt category with a range of 21 products.  Although it's easy to criticise Yoo's packaging design, it acts as a brand, and furthermore, with an own brand price tag (and the promise to undercut popular brands by 20%) Yoo has tipped the value equation to their favour. I have not been privy to any results, but clearly something worked, as towards the close of this year the supermarket giant joined forces with Adams Foods to launch Mu, which the retailer itself describes as having a real presence on shelf.
Throughout all this, two truths remain constant: Everything is branded, whether you consciously brand it or not, and consumer choice is always perception-led. The idea that you can create a rational decision is an illusion; it's all about tipping the value equation to your advantage. What will be most interesting to see is how many more retailers take brands on at their own game over forthcoming months.
About the Author
Nir Wegrzyn is the Managing Partner of BrandOpus, which he founded in 2006 to become one of the UK's leading design agencies.