4sight and Church & Dwight Team Up to Launch First Rechargeable Sonic SpinBrush under $30
With consumer usage of electric toothbrushes on the rise, 4sight inc., the New York-based design and innovation firm, partnered with Church & Dwight to launch the first rechargeable Sonic SpinBrushTM at an affordable price point—below $30—that is equally impressive on style, substance and ergonomics.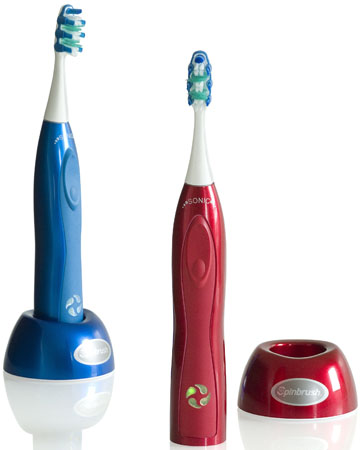 Photo: First rechargeable Sonic SpinBrush under $30, designed by 4sight
In this collaborative effort, 4sight designed the sleek and functional structure to house the new sonic technology mechanism developed by Church & Dwight (the entire cleaning head oscillates from side to side). Recognizing the importance of creating the right 'feel' for the product, 4sight conducted extensive ergonomic studies to gain insight into how consumers hold and operate electric toothbrushes, and ultimately crafted one affording users a good sense of control and high degree of functionality.  The result is a product that is lighter and slimmer than most electric toothbrushes (since it utilizes rechargeable batteries that are slimmer than replaceable ones), possesses convenient touch-points (for the on/off button), and features a space-saving recharging stand for stylish appeal.
Research also confirmed consumers' desire and expectation for a timer mechanism on the brush. "We simplified this by using indicator lights for the four 30-second cycles that correspond to the quadrants (upper and lower, left and right) of a person's mouth," says Stuart Leslie, president, 4sight inc.
While a new product, the slim premium look visually connects to the original battery-powered brushes through the use of similar metallic color pallets (red and blue). The rechargeable toothbrush is more environmentally friendly (no batteries for disposal) and features a longer life cycle so consumers save money over time.
"At 4sight, we went through the entire process from research and conceptualization through production to ensure that our vision for the product was easily translatable to the engineers responsible for manufacturing the new Sonic SpinBrushTM, and that included a visit to the factory to view the specific manufacturing process before the program even really began," notes Leslie.