Bacardi Is to Celebrate Its 150th Anniversary All Year Long
Bacardi Limited has announced the 2012 to be its most innovative year since the creation of its famous rum in 1862. Throughout the year, Bacardi will host birthday parties and launch special promotions featuring 100 years of its advertising. The company will also introduce a $2,000 limited-edition decanter of rare Bacardi rum, offer fans travel retail exclusives and commemorative gifts.

Photo: Bacardi brings people together, from www.bacardilimited.com
"For the past 150 years, Bacardi—as a family, Company and brand—has brought people together through legendary parties and great-tasting cocktails. Visit any bar, club or restaurant almost anywhere in the world, and the impact Bacardi has made on the spirits industry is crystal-clear," said Séamus McBride, Bacardi Limited President and Chief Executive Officer.
Bacardi 150th birthday parties around the world will feature award-winning musical talent, top celebrities who will celebrate together with consumers. The first Bacardi 150th party will take place in Germany on January 28, followed by Canada parties starting February 1, and the United States, Europe, Latin America, Asia-Pacific and the Middle East starting February 4.
Guests will enjoy legendary Bacardi rum cocktails, some created more than 100 years ago. According to Bacardi statistics, since its creation, this rum has been enjoyed in more than 365 billion cocktails.
Bacardi will promote the party campaign on its Facebook page that has more than two million fans, who will have a chance to win tickets and Bacardi party kits. They will also be able to win or purchase commemorative Bacardi glassware, specialty packs and apparel featuring vintage brand advertisements and/or designs by artists of Cuban heritage. More information on dates and sights of the parties are available on the dedicated web site.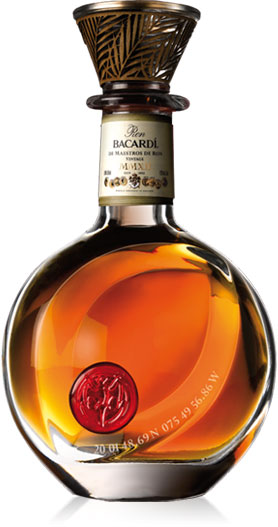 Photo: Ron Bacardi de Maestros de Ron, from www.bacardilimited.com
To celebrate the 150th  anniversary, eight Maestros de Ron, all Bacardí family members, have combined their talents to create a special, limited-edition Bacardi rum—Ron Bacardi de Maestros de Ron, Vintage, MMXII. A blend of the best rums rested in oak barrels over the last 20 years and finished in 60-year old Cognac barrels. The blend will be presented in a hand-blown 500 ml crystal decanter housed in a leather case. Each of 400 decanters is available at select international airports and premium retail establishments for US$2,000.