SoBe Skinsuit Celebrates Coconut Beaches with a Skinsuit
SoBe, the soft drink product of Purchase, N.Y.-based Pepsi-Cola North America Beverages (PCNAB), has celebrated its South Beach roots to set the stage for the newest SoBe skinsuit model. The star of the TV series 'Chuck' and upcoming feature films 'My Mother's Curse' and 'I, Frankenstein,' actress Yvonne Strahovski will feature in this new campaign.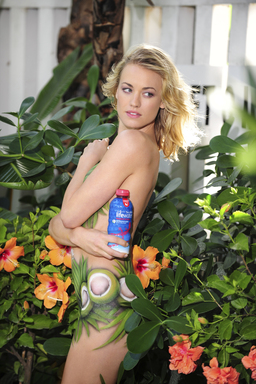 Photo: Yvonne Strahovsky in her SoBe skinsuit,
from www.multivu.com
Body painted in palms and coconuts, Yvonne launches new SoBe Lifewater with Coconut Water, three new flavors infused with coconut water. The ads will appear exclusively in the iconic Sports Illustrated Swimsuit 2012 out on February 14.
"Shooting the SoBe Lifewater with Coconut Water campaign in South Beach was a memorable experience," said Strahovski. "I think fans are really going to get into a tropical mood when they see my SoBe skinsuit and try new SoBe Lifewater with Coconut Water for themselves – it's their chance to experience the best of South Beach as I did, SoBe style."
The photo series was shot by famous swimsuit photographer Raphael Mazzucco on the shores of an old coconut plantation in the Florida Keys' Isla Morada and the iconic Shore Club in South Beach. Yvonne's SoBe Lifewater skinsuit is inspired by the three tropical flavors of new SoBe Lifewater with Coconut Water—Pacific Coconut, Pomegranate Nectarine and Mango Mandarin.
"We knew that if we were going to create a drink with coconut water, we had to give it a SoBe spin," said Rebecca Granne, Senior Marketing Director for SoBe. "SoBe Lifewater with Coconut Water flavors are a new twist on a hot trend. We're delivering unique 'flavors with benefits,' three great-tasting flavor blends that are infused with coconut water, naturally sweetened and a great way to get hydrated. I'm sure anyone would agree – Yvonne's amazing SoBe skinsuit really brings those benefits to life for us."
SoBe fans can visit Facebook.com/SoBe starting already this month for exclusive behind-the-scenes photos and video straight from South Beach. The dedicated SoBe.com web site also features footage. Yvonne will also be featured in two SoBe Lifewater with Coconut Water TV ads airing February 13.
Last year, SoBe collaborated with Mike Tyson in its 'Try Everything' campaign.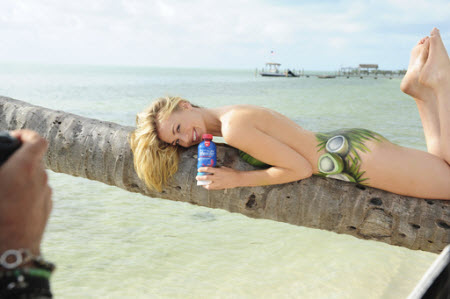 Photo: Yvonne Strahovsky in her SoBe skinsuit, from www.multivu.com