Posh Birds is a new premium egg brand created and developed by Springetts Brand Design Consultants and launched by Noble Foods.
Springetts was approached by Noble Foods, who wanted to introduce a speciality and rare breed egg brand into the fixture.  Springetts developed the Posh Birds brand with the aim of making this niche product category more accessible to the mainstream shopper.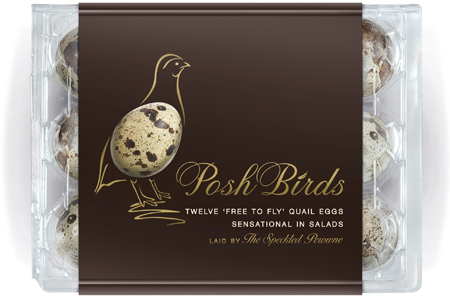 "We wanted a cheeky brand name for a product that is positioned as best in class, rather than a class above," says Springetts managing director, Andy Black.  "Speciality eggs can be quite aloof and for the discerning few rather than a commodity that is proactively marketed at shoppers."
The packs aim to drive consumption through suggesting usage occasion on-pack for those unused to speciality eggs, including informative tips on-pack like, for example, duck eggs are great for baking.
Posh Birds 'soft launched' in the autumn, with a view to a full launch this year. The range currently comprises two SKUs (6 Free Range Duck Eggs and 12 Free to Fly Quail Eggs). The range is set to expand with further variants, including Speciality Hen Eggs launching later in 2012.