Starbucks Will Sell Wine and Beer in Some of Its Stores
According to Starbucks' polls, its customers wanted to relax more, so the Coffee Company announced on January 23 that it plans to bring wine, beer and premium food offerings to a handful of locations in Atlanta, Southern California and in the Chicago area by the end of this year.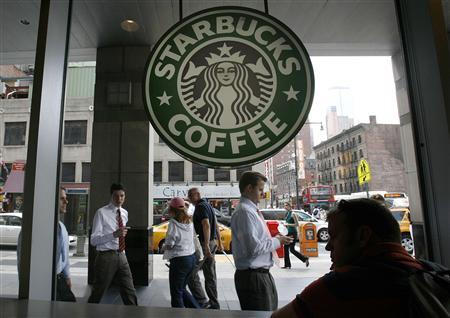 Photo: the Starbucks store on 47th and 8th Avenue in New York, from Reuters/Lily Bowers/Files
"Building an evening day-part is a natural progression for us as we are always looking for ways to evolve and enhance theStarbucks Experience based on what our customers are telling us," said Clarice Turner, senior vice president, U.S. Operations. "We're pleased with the response of our customers to the introduction of wine, beer and premium food at several of our stores in the Pacific Northwest, and we're excited to see how the idea translates to other markets."
Starbucks first introduced the evening day-part concept at its Olive Way location in Seattle in October 2010. Five stores in the Seattle area and one in Portland, Oregon serve wine, beer and premium food. Late last year, Starbucks said it will bring the concept to five to seven locations in the Chicago area and four to six stores in Atlanta and Southern California by the end of 2012.
The premium food menu will include savory snacks, small plates, and hot flatbreads as well as hand-selected wine and beer. These stores will also feature flexible seating to accommodate individuals and small groups as well as larger parties.
Starbucks top management will soon have to respond to a nationwide boycott in its stores planned for Valentine's Day 2012. Its goal is to eliminate the risk of guns in public places and ultimately to bring sane gun laws to the U.S. This boycott is being called by the National Gun Victim's Action Council (NGAC), a network of 14 million gun victims.
Currently, Starbucks allows guns and assault weapons to be openly carried in its stores, while other retail chains banned guns from being carried in their stores to protect their customers and employees.
Elliot Fineman, CEO of the NGAC says that  "Starbucks steadfast support of the NRA's lethal pro-gun agenda damages its 'socially conscious company' brand. Further, Monte Carlo Simulation risk analysis indicates that 90% of the time, our boycott will reduce Starbucks stock price by an amount no rational company would allow."
In the beginning of the year, Starbucks hasintroduced My Starbucks Rewards in the UK and Ireland after launching it in the USA and Canada. The Rewards allow customers getting rewards by spending money loaded on their registered Starbucks cards.