Schweppes Abbey Well Celebrates British Heritage with Olympic Games Rebrand
Schweppes Abbey Well is celebrating its status as the Official Water of the London 2012 Olympic and Paralympic Games with a bold and eye-catching new design. Refreshing the British natural mineral water brand, the new look will be supported in-store, with further activity set to run ahead of the Olympic Games.
The new design dials up the quintessentially British heritage of Schweppes Abbey Well, which to this day is taken from a single, naturally protected source in Northumberland. Adding a contemporary new feel, the packaging and POS support will create standout in-store across the brand's range of still as well as sparkling water.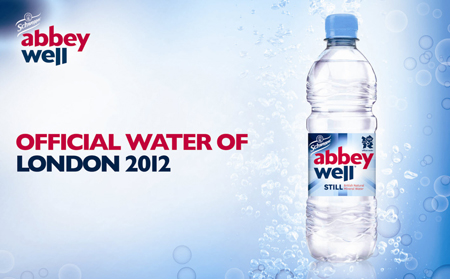 Photo: The new look of the Schweppes Abbey Well bottle unveiled ahead of London 2012
Schweppes Abbey Well will be the only packaged water available at the London 2012 Olympic and Paralympic Games and is predicted to make up around 40% of all Coca-Cola Great Britain (CCGB) products sold during the Olympic Games. In line with CCGB's commitment to supporting the greenest Olympic Games ever, the rebrand also marks the launch of 25% recycled PET across Schweppes Abbey Well plastic bottles.
Zoe Howorth, Market Activation Director for CCGB comments, "We're excited to be revealing a contemporary new look for Schweppes Abbey Well and celebrating the brand's British roots ahead of the Olympic Games. As the only bottled water available for sale at Olympic and Paralympic venues, we're looking forward to refreshing consumers as they enjoy a busy summer of sport."