Twitter to Destroy Language Barriers with the Help of Bing Translator
Twitter, which is predicted to become the London 2012 major news platform (de facto), is developing more features to provide its users with an opportunity to communicate without barriers. The micro blogging service, which is gaining momentum in Brazil, Germany, India, and Japan now after winning the US and UK, is now testing its translation option, which will allow people to understand tweets in other languages. The translation is made automatically via Bing Translator—the experiments started last week with the option available only to a bunch of users. So far, Twitter doesn't say when the translation feature will be rolled out to all users.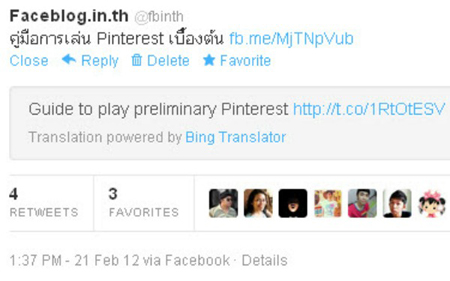 Photo :A snapshot with a translated tweet, www.faceblog.in.th
"A small percentage of users can see the option to translate the text of a tweet with Bing Translator as part of an experiment. We want to help people connect and discover what's new—no matter where they are in the world or what languages they speak," commented a Twitter spokesperson to Mashable. To get a tweet translated, a user just has to click on it— the translations have been made from Thai, Japanese and Korean into English, Thai site Faceblog.in.th reports (see the snapshot above).
Facebook, the most popular social network at the moment, has introduced the translation option back in October (powered by Bing as well) allowing users to translate posts and comments into their native languages right in their feeds.