UNICEF Tap Project Continues with Help of Droga5 and Giorgio Armani Fragrances
UNICEF Tap Project that is dedicated to provide safe, clean water to children around the world continues this year with help of Droga 5 New York and Giorgio Armani Fragrances.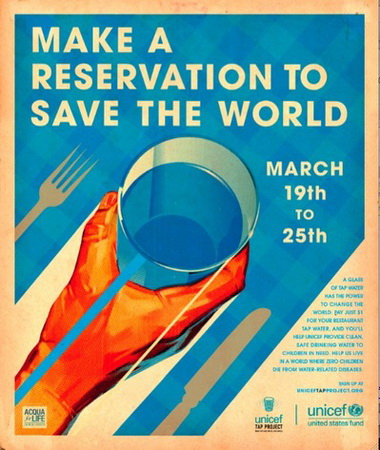 Photo: A printed ad by Tavis Coburn, from campaignbrief.com
The fully-integrated campaign uses skills of award-winning illustrator Tavis Coburn who will draw all print ads and established international commercial director Brent Harris who will direct all video ads, says Campaign Brief.
Volunteers, restaurants, partners and individuals across the US are encouraged to help provide the world's children with clean water. On March 19—25, during World Water Week people can pay $1 or more for the tap water they usually drink and use for free at participating restaurants. $1 is enough for UNICEF to provide a child with access to safe water for 40 days.
According to UNICEF statistics, Waterborne illnesses are the second leading cause of preventable childhood deaths in the world and it kills almost 4,000 children every day. To help solve the problem, Giorgio Armani Fragrances joins the initiative for the third year. During the month of March, the company will donate $1 to the US Fund for UNICEF for each Acqua di Giò for Men and Acqua di Gioia for Women spray cologne or gift set purchased in the US.
The first 100,000 people who 'Like' the Acqua for Life page on Facebook will also help to raise $1 for each click. In addition, this year, for each 10 ml Acqua di Gioia Rollerball eau de parfum purchased in the US, the company will donate the whole sum of the retail sales price, which is up to $15 per item.
UNICEF Tap Project runs for the sixth year in developing countries around the world aiming to provide people with easy access to safe water and sanitation facilities.