Walmart Tells What Products Are 'Great For You'
Walmart, which has recently encouraged its consumers to bring their own products on shelf, has unveiled the new label that will inform shoppers on which products are good for their health. The supermarket giant has introduced the 'Great For You' icon in Washington, D.C. today, on February 7, as part of the company's healthier food initiative—the new label will first get featured on select Walmart Great Value and Marketside items, fruits and vegetables, both fresh and packaged, at Walmart U.S. stores this spring.
"Walmart moms are telling us they want to make healthier choices for their families, but need help deciphering all the claims and information already displayed on products," commented Andrea Thomas, senior vice president of sustainability at Walmart. "Our 'Great For You' icon provides customers with an easy way to quickly identify healthier food choices. As they continue to balance busy schedules and tight budgets, this simple tool encourages families to have a healthier diet."
The company believes that the new labeling system will help consumers build healthier diets and encourages them make more nutritious food choices. The detailed information on the criteria, which has been developed in consultation with food and nutrition experts from the public and private sectors as well as leading health organizations can be found here, on the dedicated www.walmartgreatforyou.com website. Walmart also says that the items featuring the Great For You icon "must meet rigorous nutrition criteria informed by the latest nutrition science and authoritative guidance from the 2010 Dietary Guidelines for Americans, U.S. Food and Drug Administration (FDA), U.S. Department of Agriculture (USDA) and Institute of Medicine (IOM)."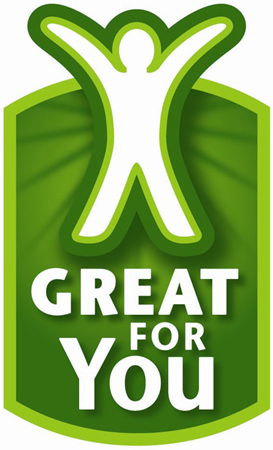 Photo: Walmart's Great For You logo
To get the label, a product has to pass at least one step (two for non-single ingredient items). At the first level there are such requirements as being 'a 100% whole grain product,' 'an unflavoured, low-fat or non-fat fluid milk and yogurt,' 'a fruit or vegetable (fresh, frozen, canned, dried and 100% juices)' and for single ingredient foods—this is the A Section. The B Section relates to the products that contain more than one ingredient, and the requirements are 'fats/oils and nuts/seeds (and spreads) with less than/equal to 15% of total calories from saturated fat' or 'a grain product that is less than/equal to 50% whole grain content or provides 8g whole grain and 3g of fiber' to name a few (these products also must meet Step 2 requirements, which focus on limiting the amount of total, trans and saturated fats, sodium and added sugars).
This step comes as part of the program launched by Walmart in 2011 to make food healthier and healthier food more affordable to consumers. According to the press release, "The initiative includes reformulating packaged food to reduce sodium and added sugars and eliminate industrially produced fats by 2015; making healthier food more affordable by providing savings on produce and reducing the price premium on better-for-you food items; developing solutions for food deserts; and increasing charitable support for nutrition education programs."