Durex Calls International Fan Community to Create a Design for the Next Box
Durex Australia has launched a global creative contest 'Durex Naked Box' to crowdsource design for the new condom pack. While the activity to which Durex products relate is better enjoyed in a couple (traditionally), the brand still can deliver fun to a broader audience as this contest and previous creative competitions prove. The new initiative convinced by creative agency Iris Worldwide is rolling out on the Durex Facebook fan-page—the brand is offering people aged 18 or older create their own vivid and hilarious cover for the next box.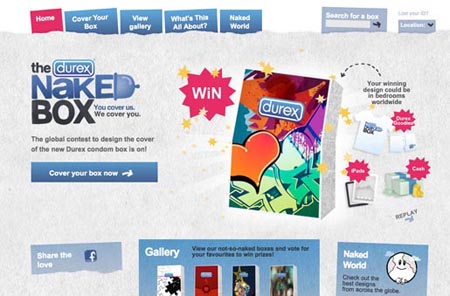 Photo: A snapshot from the Durex Naked Box contest on Facebook
"As the world's most trusted condom brand, Durex is committed to raising awareness of safe sex across the globe. We've created this design contest to get people of all ages talking about condoms. It's these conversations that increase awareness and decrease embarrassment, which we believe will ultimately lead to safer sex," says the brand on the contest page. Entrants are invited to submit their special designs created using Durex 10 Naked Tools or upload their own visuals from March 1 through April 17 for a chance to get prizes including an iPad, a year's supply of condoms and a bag full of Durex goodies (as a finalist) and a chance to work with Durex design team and receive £2,000 (as the grand winner). Six finalists of 12 will be selected based on the number of votes their submission will get (one each week), and six of 12 will be determined based on the overall number of votes (after removing the weekly winners from the poll).
The designs have to be international (do not contain any words) and polite (no naughtiness, vulgarism, racism or sexism) to mirror with Durex's style and nature. Entrants are also able to check, which country is 'ruling the naked world' at the moment (now, China is taking the lead).