LG Has Launched the Mass Production of the First Bendable Plastic E-ink Display
LG has announced it started to produce the first plastic electronic paper display (EPD) for use in e-books. The plastic e-ink 6-inches EPD gives users an opportunity to experience paper-like reading due to its flexibility—the device bends at a range of 40 degrees from the center of the screen. Its 0.7mm plastic substrate is as slim as a handset protection film. The EPD weighs only 14g.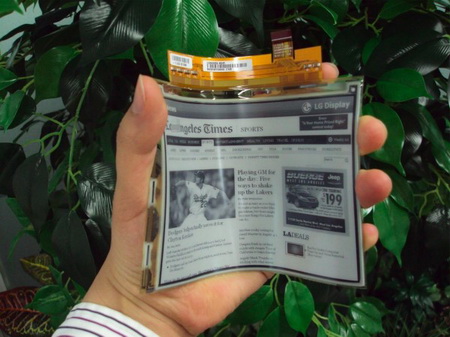 Photo: the plastic EPD by LG
"With the world's first plastic EPD, LG Display has once again proven its reputation for leadership and innovation with a product we believe will help greatly popularize the E-Book market," said Sang Duck Yeo, Head of Operations for LG Display's Mobile/OLED division. "Based on our success in mass-producing plastic EPD, we are excited as we look toward applying concepts from this experience to future developments like plastic OLED and flexible displays."
The EPD revolutionizes the e-book reading experience. According to LG, around 10% of e-book users have damaged their product screens from accidentally dropping or hitting them. The new EPD was drop tested to prove that it remains undamaged when dropped from the height of 1.5m. It was also break/scratch tested with a small urethane hammer and no scratches or breakage resulted.
To produce the plastic EPD, LG Display used an innovative technique to utilize the high TFT process, typically employed in general LCD manufacturing and with temperatures exceeding 350 degrees. Due to this technique, plastic EPD is able to maintain strong durability in high temperatures.
First, LG starts supplying the plastic EPD to ODM companies in China, while in the product Europe will be released in Europe at the beginning of next month.
Last year, the innovations leader presented the world's first scanner mouse.