Benetton Presents The Happiness and Other Survival Techniques Exhibit
Benetton is not only making vibrant apparel and accessories, but is also exploring the new ways of saving the world and helping people live better lives—the brand's COLORS Magazine, which is touching on the most important points for common people. At the Design Museum in London, Benetton has arranged an exhibition called 'Happiness and Other Survival Techniques', which combines three issues on Transport (#81), Shit (#82) and Happiness (#83, the latest one), which make up the Survival Guides trilogy as the brand calls it.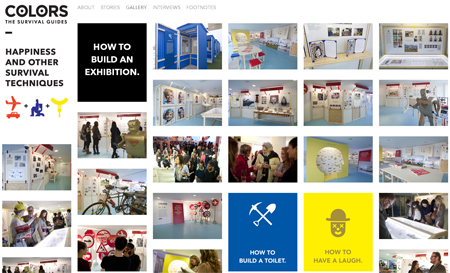 Photo: The Happiness and Other Survival Techniques exhibit online, a snapshot from the www.survivalguide.colorsmagazine.com website
Despite of technologies, which are developing at an enormous speed and all these groundbreaking approaches to improve lives, the world still needs help. "More children still die every year from diarrhoea, a banal stomach bug, than from HIV, malaria and tuberculosis combined. We might know how to fuel cars with peanuts, excrement and human fat, but over 90% of our transportation relies on an oil supply that's running out. In spite of the financial crisis, the world is getting richer, too, but since you started reading this, seven people have tried to kill themselves, and by the time you finish, one of them will have succeeded," says Benetton.
Through the COLORS Magazine and the current exhibition, which is running from April 3 to April 13, the brand wants to put simple human problems into the spotlight and inspire its fans to do something for those in need or at least, being impressed by the scale of these catastrophes, adopt new and more sustainable habits and start a global conversation.
"Visitors to the Design Museum may meet a peasant robot from China, learn to travel through the next fuel crisis, lock themselves in a latrine and discover the medicinal uses of human poo. In the spirit of DIY survival, we'll also show a selection of handmade machines, vehicles and survival tools collected from the rest of the world," says the description to the exhibit.
If you don't be there in person, or want to get more information on the themes, the brand has launched a digital hub, which features short stories about things related to transportation, poos and happiness—footnotes and short videos,—as well as photos from the exhibition and series of interviews critiques with prominent artists, designers, theorists and musicians, who are talking about the objects, which are on display. It's not mentioned if the brand is planning to take the exhibit around the globe.