Coca-Cola has announced a multifaceted partnership with Spotify music platform to provide fans with a new unprecedented music experience. It means that consumers will be given access to new music as well as communicate with other music fans and share their favorites with friends both online and offline.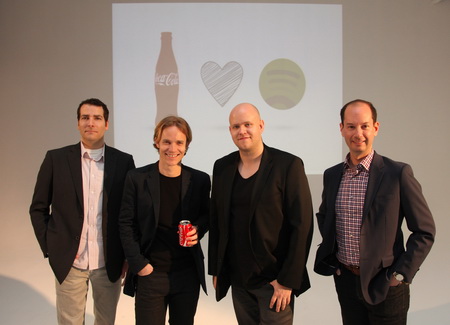 Photo: Coca-Cola and Spotify top management
"At Coca-Cola we have long recognized the power of music to connect people around the world," said Joe Belliotti, Director, Global Entertainment Marketing, The Coca-Cola Company. "As we step up our activation through Coca-Cola Music, we are excited by the innovative music technology platform created by Spotify and the opportunity to create a truly global music network. The potential for this partnership is limitless."
Spotify will be the key underlying technology for Coca-Cola Music globally will be fully supported by Spotify including its integration into Coca-Cola's Facebook page that will allow a seamless social music experience. Spotify has been partnering with Facebook since 2011 providing users with easy access to their favorite music.
Additionally, Coca-Cola's 2013 'A Year of Music' new campaign will be centered around Spotify platform. Coca-Cola will use the Spotify API and platform to create different applications for music lovers. The first app that will be unveiled for the 2012 Olympics in London was already built by independent developers during a two-day Spotify/Coca-Cola 'hacker den' held in New York City on April 14—15.
Teaming up with Spotify that is now available in 13 countries, Coca-Cola continues its 126-years old tradition of reaching its younger audience with music. One of the last biggest music projects of Coca-Cola is the creation of the anthem for the brand's global 2012 Olympics campaign 'Move to the Beat'.
Coca-Cola has also unveiled its plans to create an Olympic legacy by creating buzz around the torch relay as it passes through various towns in the UK, reports Marketing Week.