Samsung has announced a competition searching for bloggers who will cover the Olympic Games worldwide. Bloggers from 20 countries can apply via MSN for the Samsung Global Blogger (SGB) program by submitting videos in which they explain why they should be selected.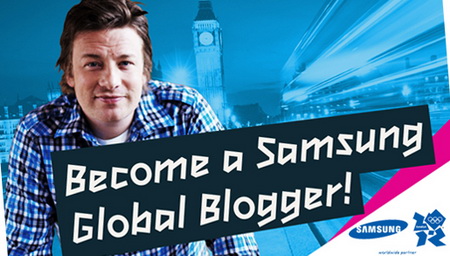 Photo: Jamie Oliver
At the end of April 100 bloggers will be selected write about the Olympics using Samsung products, especially the promoted by an elephant Samsung Galaxy Note positioned as an ideal blogging device. SGB will have to post content on MSN, social media sites and a Samsung Olympic hub page.
Samsung has signed Jamie Oliver as the ambassador for the program for his fame and ability to mentor and motivate people. Under the slogan 'Everyone's Olympic Games', Samsung will give away tens of thousands of Olympic tickets to ordinary people using different channels.
Sunny Hwang, vice-president and head of global sports marketing at Samsung, said: "Utilizing social media is the most effective and efficient way to deliver our marketing programs. The Olympics is the centre of our brand marketing. Through the Olympic sponsorship we have succeeded in increasing the brand awareness and preference, but we are still trying to increase the brand preferences more, and our brand mission is to make Samsung an aspirational brand."
Samsung expects to repeat the success of the Beijing Olympics sponsorship campaign, when their marketing share for mobile phones doubled in China from 11% to 21%. Additionally, Samsung doesn't hide its plans to strengthen their position on the market against rivals such as Apple.
"We have better technology, better design and better products [than Apple] and we are the Olympic partner, not Apple—that's a big difference," said Hwang.
Moreover, Samsung also claims it will attempt to make the blogger program available in more than 60 countries during its sponsorship of the 2016 Brazil Olympics.