H&M Collaborates with Anna Dello Russo for an Accessories Collection
H&M has teamed up with another fashion personality for the new collection. The retailer, which has been collaborating with major fashion brands and designers, has tapped fashion icon and legendary Fashion Director Anna Dello Russo, who has created an over-the-top accessories collection. The new line, which includes a range of accessories mirroring Anna's extravagant and flamboyant style, is expected to hit the stores on October 4, 2012 at 140 retailer's stores around the globe.  
"It's been extremely exciting to involve Anna Dello Russo in this project, something completely different from what we have done before. Anna has a fantastic eye and a strong taste, apart from being a veritable fashion icon. She produced an extravagant range of accessories that will get H&M customers and everyone in love with fashion excited. The collection is a celebration of excess, fantasy and decoration," commented Margareta van den Bosch, Creative Advisor at H&M.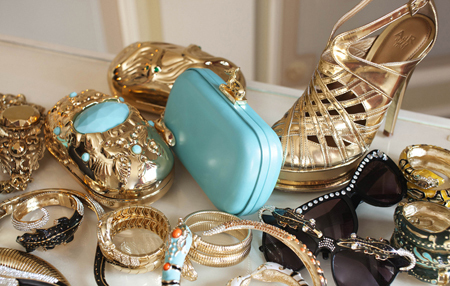 Photo: Anna Dello Russo's collection for H&M
The new collection designed by the 'fashion maniac' as photographer Helmut Newton described Anna Dello Russo, will include hilarious eye-catching pieces ranging from  massive jewelry and sunglasses to shoes and bags, which will feature fabulous ornaments, crystals and gem stones, much-liked by Anna. Known for her extravagant looks and style, she has contributed her creativity and expertise to the new collection. Anna Dello Russo, who is now Fashion Director at Large and creative consultant at Vogue Japan, is joining the ranks of fashion giants, who collaborated with the retailer on lines, which allow H&M consumers to experience affordable luxury.
So far, the retailer collaborated with Versace, Lanvin and Marni among others.