POM Wonderful Quotes FTC in Its New Provocative Ads
POM Wonderful, the pomegranate juice brand has launched a provocative campaign giving a response to the Federal Trade Commission's complaint that the brand has highly exaggerated the healthy qualities of its product.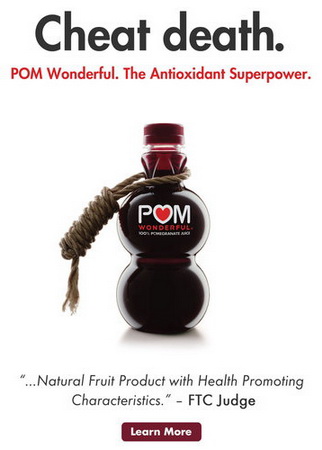 Photo: POM Wonderful ad, from www.pomwonderful.com
Now, POM uses Federal Trade Commission's Judge D. Michael Chappell's quotations in its running banner ads saying POM is a "natural fruit product with health-promoting characteristics."
Judge Chappell accused POM Wonderful of violating the law by claiming the product would treat or prevent heart disease, prostate cancer and erectile dysfunction, he did make comments about the efficacy of pomegranates and pomegranate juice in general.
Last week, POM Wonderful officially declared it disagreed with the finding that some ads were potentially misleading and, finally, the court affirmed POM Wonderful's right to share the scientifically "validated health benefit information with customers."
The new ads link viewers to a dedicated website, pomtruth.com, which continues the aggressive campaign with a statement "FTC v. Pom, you be the judge. Read the truth behind the FTC ruling." There are also additional quotes from Judge Chappell. The ads ran in the print editions of The New York Times and The Los Angeles Times and on the Web sites of The New York Times, The Huffington Post and CNN.
POM Wonderful was founded by Lynda Resnick and her husband, Stewart, in 1996. They also built such successful brands as Teleflora, the Franklin Mint and Fiji Water.
In April, Morgan Spurlock presented his new documentary 'POM Wonderful Presents: The Greatest Movie Ever Sold,' which was sponsored by the brands mentioned in it.